The NKiPad
Will a tablet a day keep the teacher away?
In January, NKI Nettstudier arranged an internal seminar focusing on iPads and online education. The attendance was high because many foresee that the trendy tablets will change the behaviour of online teachers and students.
The enthusiasm increased as more educational opportunities were revealed and peaked when 60 surprised employees received iPads as their new work devices. The popular tools were soon nicknamed Toads and NKiPads[1].
Four months later, I'm convinced that this was a wise company investment – and I realize that I already consider investing in a new tablet with the latest and greatest features. An off line Friday morning, Norwegian Easter Mountain Cabin Time, I now ponder how the Toad has influenced me and how the NKiPad makes a difference at NKI Nettstudier.
Croaking with my Toad
For good or bad, my online life is escalating. The Toad is easy to wake up, hold on to and connect to wireless zones that are all around. I often start my working days reading Toad-mail as I wait for my laptop to start up. The Toad is simply much quicker to wake up. I prefer to use it during meetings, since my laptop is heavier and more dependent on charging cords.
I soon started to use my Toad when I want to show a web page or an e-learning feature to a colleague. It is more convenient to bring the Toad to colleagues than to move them to the PC in my office.
The Toad is better suited for consuming information than it is for producing it. In the evening, I like to relax in my favourite armchair and read e-mails and documents, surf on the internet and listen to Toad music.
The keyboard is not good enough for me to write extensive documents and I haven't found efficient ways to save and upload files that I need for online teaching. Unfortunately, the Toad and our LMS are not yet fully compatible, but I assume this will be taken care of when our students and teachers gradually spend more time with their online learning tablets.
It's frustrating that Apple doesn't support Flash, and it's provoking that they lock me into their App Store. Nevertheless, I'm delighted by all the useful educational apps that I can download for little or nothing.
Connecting with our NKiPads
The NKiPad has increased the number of internal e-mails we exchange after working hours, and the IT-department receives questions about internet connections at vacation resorts. We convene around the NKiPads in vivid discussions, and it is obvious that the tablets influence the way we work and communicate.
Using the NKiPads, we get new insight in technology that will influence future e-learning and NKI's digital competence increases. Reception of the NKiPads was linked to an obligatory internal online course about NKI's strategy and quality work. This has created a collective enthusiasm and curiosity which has lead to increased communication between colleagues and departments. The course forum has further resulted in increased insight and interest in many interesting work related tasks and wishes.
The developing e-book market has increased our belief that many online students will prefer to read textbooks from their tablets. NKI has therefore started to make more textbooks from the NKI publishing house available as e-books.
Course catalogue in App Store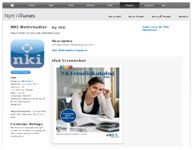 In March, NKI's printed catalogue with 400 online courses was launched as an iPad app, and I expect that similar apps from other course providers will follow soon. In my view, the design of the NKI App is professional, the navigation is elegant and the video with world champion Ole Einar Bjørndalen makes it more vivid than the printed catalogue. It was however frustrating to realize that Apple needed 75 days to accept it for distribution via App Store.
Conclusion
After four months of extensive use, I see that the iPad is changing the way I work and connect with my colleagues. But more important, I realize that tablets will accelerate the positive development of online education in general. The affordable price will make them common and strengthen the most competitive advantage of online education – the opportunity to study independent of time and place.
---
[1] The Toad is my translation for the Norwegian word Padda, which I use as an onomatopoetic pet name for my personal iPad – and toads do find themselves on lily pads. The word NKiPad was devised when I needed a word to identify the iPad as a strategic device for NKI Nettstudier.