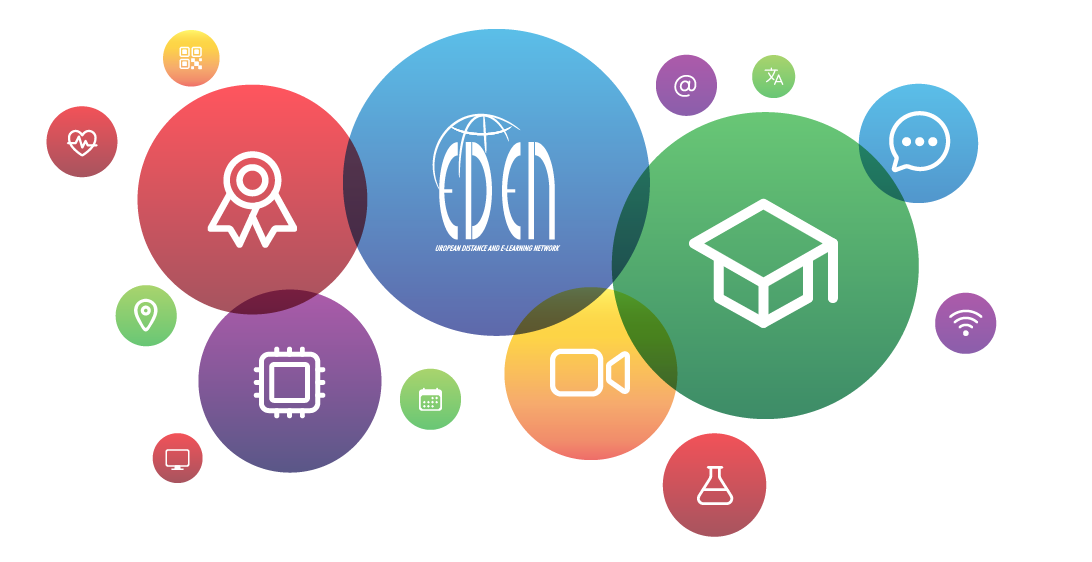 Micro-credentials got more and more attention in restructuring the Higher Education in Europe. The European Skills Agenda for sustainable competitiveness, social fairness and resilience also proposed the development of an European approach to micro-credentials as one of its 12 flagship actions. To foster the development of this approach, a European Consultation Group on Micro-Credentials discussed the core terminology underpinning micro-credentials, and contributed to a first identification of critical building blocks which should be features in a European approach for micro-credentials in higher education in the EU.
EDEN supports the above initiatives by providing expert support and performing research in this area. As part of this effort we try to collect information from our members and partners to characterize their progress in developing and applying micro-credentials in their own institutions. You can find the collected list of short learning courses recognized with micro-credentials here.
You can support our initiative by filling the following form with the details of the short learning courses awarded with micro-credentials in your institution:
For students: Find the short learning course awarded with micro-credential that best suits your needs.
| | Institution | Earner | Title | Delivery method | Classification of subject | Level | Length | Assessment type | Type of micro-credential | | Note |
| --- | --- | --- | --- | --- | --- | --- | --- | --- | --- | --- | --- |
| | Anglia Ruskin University | anyone | International Marketing: Intercultural Communication Management | | business and management/marketing | undergraduate | 15 UK credit | practical application assignement | A Transcript of credit from Anglia Ruskin University | | microcredential forms part of the IDM accredited BSc Digital Marketing degree offered by ARU and is endorsed by IDM. |
| | CloudSwyft Global Systems, Inc. | students of data science and people with entry-level positions in AI and ML industries and sectors. | AI Design and Engineering with Microsoft Azure | | business and management/big data | post secondary | 84 hours | other | digital certificate | | no HE credit (not accredited) |
| | The Open University | anyone | Business Management: Marketing Principles and Practice | | business and management/marketing | undergraduate | 100 hours | other | digital certificate | | 10 UK credits at Undergraduate level from The Open University |
| | Western Governors University | anyone | Information Technology Foundations | | Computer science | undergraduate | 54-60 hours | other | digital certificate | | a verified certificate is offered, stackabe to the Information Technology Foundations Micro Bachelor programme |
| | British Society for Antimicrobial Chemoteraphy | anyone | Challenges in Antibiotic Resistance: Gram Negative Bacteria | | science/biology | for healthcare profe... | 9 hours | non | digital certificate | | accredited by the Royal College of Pathologists |
| | National STEM Learning Centre & Science and Plants for Schools (SAPS) | anyone | Teaching Biology: Inspiring Students with Plant Science | | science/biology | This course is desig... | 9 hours | non | digital certificate | | CPD certified. |
| | Central Queensland University | anyone | Learning and Memory: Understandings from Educational Neuroscience | | science/biology | This course is aimed... | 6 hours | non | digital certificate | | |
| | Central Queensland University | anyone | Neuroleadership and Conceptual Approaches in Educational Neuroscience | | science/biology | aimed at teachers, e... | 6 hours | non | digital certificate | | |
| | The University of Glasgow | undergraduate honours degree holders | Change management | | business and management/Change management | postgraduate | 100 hours | practical application assignement | other form | | microcredential with 10 university credit! |
| | AWS Academy, validated by the Coventry University | IT and business development professionals, customer success managers, product managers, and business analysts. | Cloud Computing Practitioner with AWS Academy Cloud Foundations | | IT and Computer Science | postgraduate | 150 hours | other | digital certificate | | 15 academic credits and electronic transcript from Coventry University at Postgraduate level. |
| | University of Kent | anyone | Critical International Migration Law | | law | postgraduate | 156 hours | project-based assessments | digital certificate | | 15 UK Credits (7.5 ECTS) at Postgraduate level from University of Kent |
| | FutureLearn in collaboration with Salesforce | bachelor's degree or equivalent work experience in a relevant field | Customer Experience Management with Salesforce Training | | business and management | postgraduate | 72 hours | project-based assessments | electronic transcript from Coventry University | | 15 UK academic credits at Postgraduate level from Coventry University |
| | The Open University | anyone | Cyber Security Operations | | IT and Computer Science | postgraduate | 156 hours | project-based assessments | digital certificate | | 15 UK credits at Postgraduate level from The Open University |
| | FutureLearn in collaboration with Tableau | professionals | Data Analytics for Business with Tableau Training | | business and management | postgraduate | 156 hours | project-based assessments | electronic transcript from Coventry University | | 15 UK academic credits at Postgraduate level from Coventry University |
| | Queen Mary Univerity of London | completed first degree | Data Analytics for Decision Making | | business and management | postgraduate | 144 hours | project-based assessments | electronic transcript | | 15 UK academic credits at Postgraduate level from Queen Mary, University of London |
| | Monash University | anyone | Data Science: Data-Driven Decision Making | | IT and Computer Science | postgraduate | 144 hours | project-based assessments | digital certificate | | 6 credit points at Postgraduate level from Monash University |
| | University of Glasgow | undergraduate honours degree and have an IELTS equivalent of 6.5. | Data-Driven Leadership Skills | | business and management | postgraduate | 100 hours | project-based assessments | HEAR (Higher Education Achievement Record) from the University of Glasgow | | |
| | Institut Français de la Mode (IFM) | anyone | Fashion Business | | business and management | undergraduate | 132 hours | project-based assessments | digital certificate | | 4 ECTS credits at Undergraduate level from Institut Français de la Mode |
| | FutureLearn in collaboration with Xero & Tableau | anyone | Financial Analysis and Decision Making with Xero and Tableau | | business and management | postgraduate | 150 hours | project-based assessments | electronic transcript from Coventry University | | 15 UK academic credits at Postgraduate level from Coventry University |
| | Monash University | doctors and other healthcare professionals | Food as Medicine Final Assessment Course (NNEdPro) | | healthcare and medicine | postgraduate | 8 hours | project-based assessments | digital certificate | | |
| | Global Development in Practice: Designing an Intervention | practitioners | Global Development in Practice: Designing an Intervention | | business and management | postgraduate | 156 hours | project-based assessments | academic credential | | 15 UK credits at Postgraduate level from The Open University |
| | University of Glasgow | career involves working eith people and health research | Impact of Trauma on Mental Health | | healthcare and medicine | postgraduate | 100 hours | project-based assessments | academic credential | | 10 UK credits at Postgraduate level from The University of Glasgow |
| | University of Kent | anyone | International Relations: Politics in Turbulent Times | | politics and society | postgraduate | 120 hours | project-based assessments | academic credential | | 15 UK credits at Postgraduate level from The University of Kent |
| | University of Glasgow | social care professionals | Introduction to Management and Leadership in Health Services | | healthcare and medicine | postgraduate | 100 hours | project-based assessments | academic credential | | 10 UK credits at Postgraduate level from The University of Glasgow |
| | QA | anyone | ITIL® 4 Foundation Certificate with Official Manual and Exam | | IT and Computer Science | | 30 hours | project-based assessments | ITIL® 4 Foundation Certificate | | A ITIL® 4 Foundation Certificate in Service Management from Training is provided by QA, accredited by PeopleCert |
| | The Open University | anyone | Management of Uncertainty: Leadership, Decisions and Action | | business and management | postgraduate | 156 hours | project-based assessments | academic credential | | 15 UK credits at Postgraduate level from The Open University |
| | The Open University | currently working, or looking to work in education | Online Teaching: Accessibility and Inclusive Learning | | teaching | postgraduate | 156 hours | project-based assessments | academic credential | | 15 UK credits at Postgraduate level from The Open University |
| | The Open University | learners | Online Teaching: Creating Courses for Adult Learners | | teaching | postgraduate | 156 hours | project-based assessments | digital certificate | | 15 UK credits at Postgraduate level from The Open University |
| | The Open University | institutions and individuals | Online Teaching: Evaluating and Improving Courses | | teaching | postgraduate | 156 hours | project-based assessments | digital certificate | | 15 UK Credits at Postgraduate level from The Open University |
| | University of Glasgow | graduate managerial employees | Practical Project Management | | business and management | postgraduate | 100 hours | project-based assessments | academic credential | | 10 UK credits at Postgraduate level from The University of Glasgow |
| | QA | current and aspiring project management professionals | PRINCE2® 6th Edition: Foundation Certification with Official Manual and Exam | | business and management | | 24 hours | project-based assessments | digital certificate | | A PRINCE2® Certificate from QA, accredited by PeopleCert |
| | Product Marketing Alliance | anyone | Product Marketing: Product Positioning, Sales Enablement, Onboarding, and Analysis | | business and management | postgraduate | 24 hours | project-based assessments | digital certificate | | |
| | Product Marketing Alliance | anyone | Product Marketing: Product Research, Pricing, Personas, and OKRs | | business and management | postgraduate | 20 hours | project-based assessments | digital certificate | | |
| | Anglia Ruskin University | anyone working in management | Project Management: Human Resources and Leadership | | business and management | postgraduate | 150 hours | project-based assessments | electronic transcript | | 15 UK credits at Postgraduate level from Anglia Ruskin University |
| | Deakin University | anyone | Research Methods | | business and management | postgraduate | 130 hours | project-based assessments | digital certificate | | |
| | Entrepreneurial Sales Institute | anyone working in complex B2B sales environments | Sales Skills for Today: An Introduction to Entrepreneurial Sales | | business and management | undergraduate | 102 hours | two impact statements for assessment | Professional Diploma | | 10 SCQF credits at Undergraduate level from Glasgow Caledonian University |
| | Deakin University | anyone | Sports Coaching | | psychology and mental health | postgraduate | 100 hours | project-based assessments | digital certificate | | Recognition of Prior Learning (RPL) at Postgraduate level from Deakin University |
| | Deakin University | anyone | Sustainability and Development | | nature and environment | postgraduate | 106 hours | project-based assessments | digital certificate | | 1 Deakin postgraduate credit at Postgraduate level from Deakin University |
| | The Open University | teachers, trainers, lecturers, learning designers, educational technologists, heads of department | Teacher Development: Embedding Mental Health in the Curriculum | | teaching | postgraduate | 156 hours | project-based assessments | digital certificate | | 15 UK credits at Postgraduate level from The Open University |
| | University of Glasgow | healthcare professionals | Teaching Healthcare Professionals | | healthcare and medicine | postgraduate | 100 hours | project-based assessments | academic credential | | 10 UK credits at Postgraduate level from The University of Glasgow |
| | Anglia Ruskin University | marketing professionals | Understanding Consumer Behaviour: Customer Decision-Making and the Customer Journey | | business and management | undergraduate | 150 hours | project-based assessments | academic credential | | 15 UK credits at Undergraduate level from Anglia Ruskin University |
| | UCLouvain | anyone | Master the language of the international law | | law | | 252-416 hours | other | digital certificate | | 20 credits out of the 60 credits needed to complete the advanced master |
| | RIT | anyone | Project management | | business and management | undergraduate | 244-365 hours | other | digital certificate | | 9 credits toward a Professional Studies Degree |
| | Universidad Galileo | anyone | e-Learning: crea actividades y contenidos para la enseñanza virtual | | Information and Communications Technology (ICT) | postgraduate | 64-80 hours | other | digital certificate | | 18 credits at Universidad Galileo |
| | Universitat Politècnica de Valencia | anyone | Liderazgo y trabajo en equipo en grupos de mejora continua | | business and management | postgraduate | 96-124 hours | other | digital certificate | | 7 credits at UPV Lean Manufacturing Master |
| | TUDelft | anyone | Solar Energy Engineering | | engineering | undergraduate | 510-521 hours | other | digital certificate | | Credits at RIT |
| | RWTH Aachen University | basic mathematical knowledge and a general interest in business | Managing Technology & Innovation: How to deal with disruptive change | | business and management | undergraduate | 216-288 hours | other | digital certificate | | 15 credits towards the MME-TIME degree |
| | RIT | anyone | Cybersecurity | | IT and Computer Science | undergraduate | 400-768 hours | other | digital certificate | | 9 credits toward a Master of Science in Computing Security Degree |
| | Massachusetts Institute of Technology | anyone | Supply Chain Management | | business and management | undergraduate | 539-809 hours | other | digital certificate | | the MicroMasters program certificate will count towards the degree |
| | The Hong Kong Polytechnic University | anyone | International Hospitality Management | | business and management | undergraduate | 192-256 hours | other | digital certificate | | |
| | The University of Michigan | anyone | Leading Educational Innovation and Improvement | | teaching | undergraduate | 76-152 hours | other | digital certificate | | 12 credit hours toward a master's degree specializing in such areas as Educational Leadership and Policy, Teaching and Learning, New Media and Literacy, or Urban Pedagogy, if they apply, and are admitted, to the University of Michigan's School of Education |
| | IIMB | anyone | Business Management | | business and management | undergraduate | 95-146 hours | other | digital certificate | | |
| | IIMB | anyone | Entrepreneurship | | business and management | undergraduate | 462-521 hours | other | digital certificate | | |
| | University of Maryland | anyone | Cloud Computing | | IT and Computer Science | undergraduate | 256-320 hours | other | digital certificate | | |
| | The University of Adelaide | anyone | Big Data | | IT and Computer Science | undergraduate | 344-430 hours | other | digital certificate | | 12 units of credit toward the Master's program |
| | Georgia Tech | anyone | Analytics: Essential Tools and Methods | | IT and Computer Science | undergraduate | 348-430 hours | other | digital certificate | | credit toward the total of 36 hours required for the degree |
| | University of Maryland | anyone | Instructional Design and Technology | | design and technology | undergraduate | 256-320 hours | other | digital certificate | | 12 credits toward the full Master's degree |
| | University of Maryland | anyone | Software Testing and Verification | | IT and Computer Science | undergraduate | 192-240 hours | other | digital certificate | | 12 credits toward the full Master's degree |
| | UC San Diego | anyone | Data Science | | IT and Computer Science | undergraduate | 350-440 hours | other | digital certificate | | the certificate will count towards 25% (or 100 credits of the 400 credits) of the coursework required for graduation in the Curtin program |
| | Curtin University | anyone | Marketing in a Digital World | | business and management | postgraduate | 314-400 hours | other | digital certificate | | 9 credits which will serve toward one concentration required for this interdisciplinary degree |
| | The University of British Columbia | anyone | Software Development | | IT and Computer Science | undergraduate | 218-279 hours | other | digital certificate | | the MicroMasters program certificate will count towards 25% (or 100 credits of the 400 credits) of the coursework required for graduation in the Curtin program |
| | Boston University | anyone | Digital Product Management | | business and management | undergraduate | 114-210 hours | other | digital certificate | | MicroMasters program certificate waives 25% of the degree requirement making this an exciting seven-month program |
| | Boston University | anyone | Digital Leadership | | business and management | undergraduate | 94-218 hours | other | digital certificate | | MicroMasters program certificate waives 25% of the degree requirement making this an exciting seven-month program |
| | University of Maryland | midcareer professionals | Accounting and Financial Management | | business and management | undergraduate | 256-320 hours | other | digital certificate | | 12 credits toward the full Master's degree |
| | The University of Queensland | anyone | Business Leadership | | business and management | postgraduate | 326-412 hours | other | digital certificate | | 8 of the 24 credit units required for the Master of Leadership in Service Innovation program |
| | Berkeley University of California | anyone | Marketing Analytics | | business and management | undergraduate | 80-112 hours | other | digital certificate | | 25% of the coursework required for graduation in the Curtin program |
| | UC San Diego | anyone | Algorithms and Data Structures | | IT and Computer Science | undergraduate | 288-372 hours | other | digital certificate | | 25% of the coursework required by this program |
| | Curtin University | anyone | Internet of Things (IoT) | | IT and Computer Science | undergraduate | 164-234 hours | other | digital certificate | | If accepted into the program, students will be awarded 12 credits which will serve toward one concentration required for this interdisciplinary degree. 100 credits (25%) towards the 400 credit Master of International Business and Entrepreneurship degree program. 100 credits (25%) towards the 400 credit Master of Engineering Science (Electrical Engineering) degree program. |
| | The University of Queensland | anyone | Sustainable Energy | | sustainable energy | undergraduate | | other | digital certificate | | |
| | The University of Queensland | anyone | Corporate Innovation | | business and management | undergraduate | 360-450 hours | other | digital certificate | | |
| | Chalmers University of Technology | anyone | Emerging Automotive Technologies | | design and technology | undergraduate | 510-1020 hours | other | digital certificate | | 20-22.5 credits |
| | RIT | anyone | Design Thinking | | design and technology | undergraduate | 240-360 hours | other | digital certificate | | 33 credits |
| | Massachusetts Institute of Technology | anyone | Principles of Manufacturing | | engineering | undergraduate | 670-804 hours | other | digital certificate | | |
| | Massachusetts Institute of Technology | anyone | Statistics and Data Science | | IT and Computer Science | undergraduate | 700-995 hours | other | digital certificate | | |
| | Doanex | anyone | Healthcare Administration | | healthcare and medicine | undergraduate | 130-252 hours | other | digital certificate | | 30 credits for the full MBA degree |
| | Doanex | anyone | Certified Lifestyle Medicine Executive | | healthcare and medicine | undergraduate | 131-162 hours | other | digital certificate | | 30 credits for the full MBA degree |
| | University of Maryland | anyone | MBA Core Curriculum | | business and management | undergraduate | 392-490 hours | other | digital certificate | | 25 percent (14 credits) of the coursework required for graduation |
| | Wageningen University & Research | anyone | Chemistry and Technology for Sustainability | | engineering | undergraduate | 340-520 hours | other | digital certificate | | 18 credits |
| | Tecnológico de Monterrey | anyone | Habilidades profesionales: negociación y liderazgo | | business and management | undergraduate | 100-160 hours | other | digital certificate | | |
| | Wageningen University & Research | anyone | Economics and Policies for a Circular Bio-Economy | | business and management | undergraduate | 364-524 hours | other | digital certificate | | 18 credits |
| | Doanex | anyone | Sustainable Agribusiness | | agriculture | undergraduate | 560-840 hours | other | digital certificate | | 9 credits out of the total of 30 credits for the full MBA degree |
| | Indiana University | anyone | Information Systems | | business and management | undergraduate | 288-360 hours | other | digital certificate | | in Information Technology Management with no need to take the GMAT or GRE test |
| | NYU | anyone | Integrated Digital Media | | design and technology | undergraduate | 384-480 hours | other | digital certificate | | This program certificate counts towards 30% of the coursework required by the Integrated Digital Media Master's program at NYU Tandon School of Engineering |
| | Indiana University | anyone | Accounting | | finance | undergraduate | 288-432 hours | other | digital certificate | | 9 credits to apply to the 30-credit Master's degree |
| | Universidad Nacional de Córdoba | anyone | Gestión de servicios: diseño de experiencias exitosas | | business and management | undergraduate | 85-119 hours | other | digital certificate | | |
| | The University of Edinburgh | anyone | Predictive Analytics using Python | | IT and Computer Science | undergraduate | 240-300 hours | other | digital certificate | | 30 credits awarded from the MicroMasters program will be recognised as credit obtained towards the 180 credits required for the full MSc |
| | Arizona State University | anyone | Global Business Leadership and Management | | business and management | undergraduate | 432-480 hours | other | digital certificate | | 9 of the 30 total credits needed to complete the degree |
| | Technologico de Monterrey | anyone | Innovación y emprendimiento | | business and management | undergraduate | 144-192 hours | other | digital certificate | | |
| | Wageningen University & Research | anyone | Business and Operations for a Circular Bio-Economy | | business and management | undergraduate | 376-524 hours | other | digital certificate | | 18 credits |
| | Queen's University | anyone | Water and Global Human Health | | healthcare and medicine | undergraduate | 288-360 hours | other | digital certificate | | 50% credit towards a full Graduate Diploma in Water and Human Health from Queen's University |
| | Purdue Univerity | anyone | Nanoscience and Technology | | design and technology | undergraduate | 236-273 hours | other | digital certificate | | 6 credits (20%) towards the degree |
| | Massachusetts Institute of Technology | anyone | Finance | | finance | undergraduate | 600-840 hours | other | digital certificate | | 10 credits of the 49 total required credits towards the completion of the Masters of Business Administration. 15 credits of the 52 total graduate credits towards the completion of the Master's in Financial Management. 9 credits out of the 52 total graduate credits to the Finance MicroMasters program credential holders 8 credits of the 36 total required credits towards the completion of USF's Master of Science in Applied Economics |
| | The University of Queensland | anyone | Leadership in Global Development | | business and management | undergraduate | 388-482 hours | other | digital certificate | | credit toward completing a Master's degree program |
| | Universidad Nacional de Córdoba | anyone | Siembra Directa: agricultura productiva sustentable | | agriculture | undergraduate | 155-217 hours | other | digital certificate | | |
| | Technologico de Monterrey | anyone | Humanities & Soft Skills | | business and management | undergraduate | 120-192 hours | other | digital certificate | | |
| | Purdue Univerity | anyone | Reliability and Decision Making in Engineering Design | | design and technology | undergraduate | 255-306 hours | other | digital certificate | | 6 credits towards the degree if they obtained a grade B- or higher in each course |
| | HEC Montreal | anyone | Design et Évaluation UX | | design and technology | undergraduate | 240-352 hours | other | digital certificate | | Learners who successfully earn the MicroMasters Credentials, are eligible to apply to the M.Sc. and will be credited for 9 academic credits (45 credits are required for graduation with the master's in UX degree). They will have to take four more 3-credit courses for 12 credits and do an industry-applied master's thesis at the Tech3lab for 24 credits |
| | HEC Montreal | anyone | UX Design and Evaluation | | design and technology | undergraduate | 240-360 hours | other | digital certificate | | Learners who successfully earn the MicroMasters Credentials, are eligible to apply to the M.Sc. and will be credited for 9 academic credits (45 credits are required for graduation with the master's in UX degree). They will have to take four more 3-credit courses for 12 credits and do an industry-applied master's thesis at the Tech3lab for 24 credits |
| | Purdue Univerity | anyone | Quantum Technology: Computing | | science/biology | undergraduate | 260-342 hours | other | digital certificate | | If you have completed Purdue MicroMasters courses with a grade of B or higher, you can apply these credits towards Purdue's online Electrical and Computer Engineering Master's degree on edX |
| | Purdue Univerity | anyone | Quantum Technology: Detectors and Networking | | science/biology | undergraduate | 238-317 hours | other | digital certificate | | If you have completed Purdue MicroMasters courses with a grade of B or higher, you can apply these credits towards Purdue's online Electrical and Computer Engineering Master's degree on edX |
| | Technologico de Monterrey | anyone | Innovation & Entrepreneurship | | business and management | undergraduate | 150-208 hours | other | digital certificate | | |
| | University of Cambridge | anyone | Writing for Performance and the Entertainment Industries | | art | undergraduate | 256-320 hours | other | digital certificate | | 30 credits towards the 180 credit degree |
| | Purdue Univerity | anyone | Structural Design | | design and technology | undergraduate | 120-168 hours | other | digital certificate | | 6 credit hours toward the 30 credits required for a Master's degree |