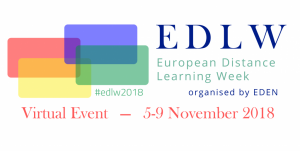 With the success of the European Distance Learning Weeks (EDLW 2016 and 2017) in the background, EDEN organised the high profile online event again in November 2018 in cooperation with the United States Distance Learning Association (USDLA), which was holding its National Distance Learning Week (NDLW) in parallel with the EDEN event.
This year 8 webinars with over 500 registered participants were held. Altogether 36 facilitators contributed to the successful implementation of the ambitious programme. All participants and facilitators receive EDEN open badges for their contribution.
The presenters' slides can be viewed on EDEN's SlideShare page, while the recordings can be accessed through the links below:
________________________________________
Distance Education: Past, Present and Future – Overview and Foresight
Monday, November 5, 2018: 15:00-16:30 CET
Format: Panel debate
Moderator: Sandra Kučina, University of Zagreb University Computing Centre, EDEN Vice-President
Description: If we reflect today on Distance Education what can we say, does it satisfy learners needs today? How distance education has evolved through decades? It can be said that technology have been core to the nature and organization of learning and teaching for millenia. What tools are used today for distance education? What are the trends? How open universities are adapting to new times and technologies? When we look into the future what can we foresee, what are the challenges? What is position of open education in relation to distance education?
Discussion with distinguished experts on some recent developments of Open and Distance Learning in Europe and globally from different perspectives: personal professional perspective, public – private establishment, different regional developments' overview, open and blended education, etc
Panel members:
Airina Volungevičienė, Vytautas Magnus University, EDEN President
Morten Flate Paulsen, Acting Secretary General ICDE, EDEN Senior Fellow
Claudio Dondi, Senior Expert in Education and Training, EDEN Senior Fellow
Steffi Widera, Managing Director at Virtuelle Hochschule Bayern
Pat Cassela, USDLA President
Dean Hoke, USDLA
________________________________________
Line Between Non-formal and Formal Education – Recognition and Credentialing of Learning
Tuesday, November 6, 2018: 13:00-14:30 CET
Format: Presentations and panel
Moderator: Ulf-Daniel Ehlers, Co-Operative State University Baden-Wurttemberg, Germany, EDEN Executive Committee Member
Description: As lifelong learning is coming from a myth to reality, education is increasingly diversifying. No longer a standard formal degree is the rule of the day but more and more education is an episodical process throughout life. While policy enthusiastically embraces these and related ideas, practice is still struggling with following. And in between the ensuing debate, labour market is announcing that "long-term", "bullet proofed" degrees are no longer the currency of the day for them but that small certified experiences, competences and skills which have been gained through practical experiences are often much more speaking to them. The question can be posed: are we arriving at a new era of education? One which is much more focussing on informal learning, non-formal learning and microcredentials instead of the traditional bachelor and master degree?
Presenters:
Airina Volunevičiene, VMU & Sandra Kucina Softic, SRCE; title of the presentation: ReOPEN: Recognition of Valid and Open Learning – Impact and established collaboration
Alfredo Soeiro, University of Porto, EDEN Senior Fellow; title of the presentation: Validation of competences from virtual, non formal or informal learning: a proposal
Ildiko Mazar, Research & Development Associate, Knowledge Innovation Centre; title of presentation: Open Credentials for Open Education Moving the Needle Forward
Giedrė Tamoliūnė, Vytautas Magnus University; title of the presentation: Online learners' interactions and engagement into study process
________________________________________
Innovative Education – Case Studies
Wednesday, November 7, 2018: 13:00-14:30 CET
Format: Presentations and panel
Moderator: Mark Nichols, Open University UK, EDEN Executive Committee Member
Presenters:
Fabio Nascimbeni, Universidad Internacional de La Rioja, EDEN Senior Fellow. Title of presentation: Building Critical Digital Literacy for HE Teachers: the Eduhack approach
Jean-Claude Callens, Vives University, title of presentation: Evaluation in distance education @ VIVES: some tools and trends
Simon Paul Atkinson, Principal Fellow of the Higher Education Academy (PFHEA), MA, PGCLTHE. Educator, Researcher, Developer, Consultant title of presentation: Designing Pathways: which way to innovation?
Estela Daukšiene, Vytautas Magnus University and Lithuanian Association of Distance and e-Learning (LieDM), title of the presentation: Challenges students face in virtual mobility
_______________________________________
Considerations for QA of e-Learning Provision
Thursday, November 8, 2018: 13:00-14:30 CET
Format: Presentation/panel discussion
Moderator: Ebba Ossiannilsson, EDEN Executive Committee Member
Description: The learning landscape looks completely different today than it did five years ago. The way that learners are learning is changing dramatically. Today learning is available anywhere, and everywhere, and through any kind of device. Mobile learning is the first choice for most people today. Within a context of globalization and the knowledge economy, the quality of higher education is increasingly regarded as strategically important for national economic development and competitiveness. High quality and relevant higher education equips students with the knowledge, skills and core transferable competences they need to succeed after graduation, within a high-quality learning environment which recognizes and supports good learning and teaching. The recommendations in the occasional paper on Considerations for quality assurance of e-learning provision by ENQA are applicable to all forms of e-learning, i.e. learning which is facilitated through the use of ICT. Besides examining the applicability and relevance of the standards defined in the ESG 2015, this document is meant to initiate discussion and the thinking processes of stakeholders involved, e.g. HEIs, QA agencies, etc. Read more…
Moreover, the TeSLA project will be discussed. The TeSLA system is a project funded by the European Commission. It will follow the interoperability standards for integration into different learning environment and it will be developed to reduce the current restrictions of time and physical space in teaching and learning, which opens up new opportunities for learners with physical or mental disabilities as well as respecting social and cultural differences.
In addition, the EDEN SIG on TEL and quality enhancement will be presented, which aim is to advocate and work for renewing the quality agenda in education. Read more on EDEN SIG TE QE
Presenters:
Esther Huertas Hidalgo, AQU Catalunya, Spain, The European Association for Quality Assurance in Higher Education (ENQA)
Ebba Ossiannilsson, EDEN Executive Committee Member, EDEN Fellow Council Member, Chair of the EDEN SIG on TEL & QE
________________________________________
How EDEN Network can Support PhD Students and Research?
Friday, November 9, 2018: 13:00-14:30 CET
Format: Panel debate
Moderator: Wim Van Petegem, KU Leuven, EDEN Senior Fellow
Description: In EDEN we offer opportunities for people to meet, to discuss, to network, to share new ideas, to create new knowledge, etc. We do that for professionals, teachers and researchers, for students and supervisors, for academics and non-academics. We recognize the importance of fundamental, empirical or action research and want to share the outcomes with a large community of practitioners to improve the quality of open education in an evidence-based way. Above all we believe that the young generation of PhD students in and outside our network will be the drivers for change. Time to reflect on how we can address their needs and aspirations, how we can help and support them in achieving their goals, how we as a community can empower them in their research process, how we can offer them a platform to test new ideas or to share their findings, how our network can benefit from their work, etc. These questions will be answered by the panelists, while taking into account the voice of the PhD students themselves.
Presenters:
Antonio Teixeira, Universidade Aberta, EDEN Senior Fellow
Albert Sangra, Universitat Oberta de Catalunya, EDEN Senior Fellow
Margarita Tereseviciene, Vytautas Magnus University
Deborah Arnold, Universitat Oberta de Catalunya, EDEN Senior Fellow
Nilza Costa, University of Aveiro
________________________________________
Other contributions from European education organisations to European Distance Learning Week organised by EDEN Community members:
Open Education: What Now?
Monday, November 5, 2018: 11:00-12:00 CET
Format: Panel debate
Moderator: Alastair Creelman, Linnaeus University, Sweden, NAP Steering Committee Member
Description: Open education is advocated by many as a means of improving educational effectiveness, access, and equity. However, openness in education is increasingly under threat. More platforms and tools are raising paywalls and several MOOC platforms are already experimenting with fees for access to course material, thus making the open aspect of MOOC redundant. In addition, data breaches, misinformation, and pervasive surveillance practices are now endemic on the open web. Thus, the concept of open practice also can be viewed as a means of fuelling data capitalism and eroding privacy.
In this webinar we will discuss these issues with two authorities in the field of open education.
Alastair Creelman works as an e-learning specialist and is active in several national and international networks and projects in the field including being a member of the EDEN NAP Steering Committee.
University profile I Blog
Panel members:
Martin Weller – Professor of Educational Technology, The Open University UK
Martin Weller is Professor of Educational Technology at the Open University in the UK. He is the Director of the OER Hub, and has published extensively in the area of open educational resources, digital scholarship, e-learning and open practice.He is the author of The Battle for Open & The Digital Scholar (both published under an open access licence) and blogs at edtechie.net.
Blog I Twitter I Battle for Open I OER Hub
Catherine Cronin – Strategic Education Developer, National Forum for the Enhancement of Teaching & Learning in Higher Education (Ireland)
Catherine Cronin is an open educator and open researcher whose work focuses primarily on open education, critical approaches to openness, digital identity practices, and exploring the interplay between formal and informal learning. Catherine recently completed her PhD in the area of open educational practices (OEP) in higher education. She has been involved in teaching, research and advocacy in higher education and in the community for over 25 years and is a regular contributor to conversations and collaborative projects in the area of open education, within Ireland and globally.
Twitter I Website I Article: Open Education, Open Questions, EDUCAUSE Review, 2017
________________________________________
Virtual Reality
Wednesday, November 7, 2018: 15:30-17:00 CET
Format: Presentations and discussion
Moderator: Steve Wheeler, University of Plymouth, UK, EDEN Fellow
Description: With new technologies and digital devices we have changed our everyday life. We do not use books, now we use e-books, we do not watch how someone is doing something live, we watch the video, children do not play game outside but online, student do not need to travel to participate in a course, they use virtual mobility, difficult and expensive experiments performed in laboratories can be performed easy in virtual laboratories, virtual worlds… these are just few examples how technology can and already has enhanced our lives. Virtual reality enables better realisation of student centred learning, higher quality of teaching and learning, innovativeness and creativeness of teachers and students.
In this session we plan to discuss the importance of the virtual reality for education, benefits and challenges. Our panelists show best practice and share their experiences.
Presenters:
Marci Powell, Marci Powell and Associates, USA
Susan Aldridge, Drexel University, USA
Diana Andone, University of Timisoara, Romania, EDEN Vice-President
________________________________________
New Learning Spaces to Support the EU 2020 Learning-Intensive Society
Thursday, November 8, 2018: 15:30-17:00 CET
Moderator: Elena Caldirola, University of Pavia, EDEN Executive Committee Member
Description: "Learning Spaces" (LS) is the term used in a report published in 2006 by the Institute for Prospective Technological Studies, "as a way to embrace a different view of future learning". The context for learning in the schools and HEIs, at any level, is already changing, and thus the characteristics and enabling infrastructure for learning spaces may also be changing. In this webinar strategies to plan and design new Learning Spaces, related to the modern Learning-Intensive Society, will be discussed. Two ancient, long established and multidisciplinary Universities (Pavia, Italy and Uppsala, Sweden) will share their experience in this field, highlighting the challenge to "promote the future" in historical buildings, so rich in art, culture and architectural constraints.
Examples will be given of good learning practices and learning paths developed in Pavia and Uppsala LSs.
Presenters:
Stefano Govoni, ViceRector, University of Pavia
Marco Morandotti, Deputy Rector for Real Estate, University of Pavia
Mats Cullhed, University of Uppsala, Coimbra Group
Elena Caldirola, University of Pavia