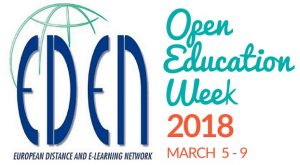 Founded in 2013 by the Open Education Consortium, the goal of Open Education Week is to raise awareness and showcase impact of open education on teaching and learning worldwide. Open Education Week has become one the most foremost global events recognizing high achievement and excellence in open education.
During the Open Education Week, EDEN offered the following online events:
________________________________________________
2018 The future of the distance education university
Monday, 5 March, 2018, 20:00 CET
Format: Panel discussion
Moderator: Mark Nichols, Open University UK, EDEN Executive Committee member
Speakers:
Sir John Daniel: Sir John was Vice Chancellor of the Open University UK (1990-2001) then Assistant Director-General for Education at UNESCO (2001-2004) and President and CEO of the Commonwealth of Learning from 2004-2012.
Ross Paul, University of Windsor, Canada: Ross Paul is currently an Adjunct Professor at the University of British Columbia (UBC). He has served as President and Vice-Chancellor of the University of Windsor from 1998 to 2008, following his Presidency of Laurentian University.
António Teixeira, Universidade Aberta, Portugal: António is currently Director of the Department of Education and Distance Learning at Universidade Aberta. He was a member of EDEN's Executive Committee from 2008 before becoming President in 2013 until 2016.
Tony Bates, CA: Tony is distinguished visiting professor at the G. Raymond Chang School of Continuing Education, Ryerson University, Toronto and at The De Groote School of Business, McMaster University, Hamilton, Ontario. His career has included leadership and research roles with some of the world's leading distance universities.
Questions discussed during the webinar:
What are the big challenges distance education universities face at the moment?
What do you think is their best response to these challenges?
Do you have a vision for the future of distance education universities? If so, what is it?
What is it that distance universities offer that might be unique in what will increasingly be an online education future?
How might distance universities become flexible to adapt to new markets and opportunities?
________________________________________________
2018 Challenges for quality of open educational resources
Tuesday, 6 March 2018, 13:00 CET
Format: Panel discussion
Moderator: Wim van Petegem, EDEN Vice-president
Speakers:
Airina Volungeviciene, Director of Innovative Studies Institute, Vytautas Magnus University, The President of EDEN
Professor Martin Weller, Academic director for the Learning Design project and Director of the OER Hub, Institution of Educational Technology, Open University, UK
Professor Ulf-Daniel Ehlers, Baden-Wurttemberg Cooperative State University Karlsruhe
Gard Titlestad, Secretary General, ICDE
Svetlana Knyazeva, UNESCO Institute for Information Technologies in Education
Ebba Ossiannilsson, Ph.D., The Swedish Association for Distance Education, EDEN EC member
Questions discussed at the webinar:
What factors do have an impact on quality of open educational resources (and open education in general)?
How do we 'measure' quality? Or: where is the evidence?
How can we improve quality? What measures could be taken by the teacher/author, by the institution, by the community?
Should we go for a sort of accreditation (formal recognition)? Or more for a qualification ('like')? And how do we organize this?
What is the role of students, learners in the quality debate?
________________________________________________
2018 Grassroots open educators at work: challenges and ideas
Wednesday, 7 March 2018, 9:00 CET
Format: Debate panel
Moderator: Fabio Nascimbeni, EDEN Executive Committee member
Speakers:
Professor Mihaela Banek Zorica, Faculty of Humanities and Social Sciences, University of Zagreb, Croatia
Anna Maria Tammaro, Università di Parma, Italy
Carmen Holotescu, University "Ioan Slavici" Timisoara, Romania
Wayne Mackintosh, Director OER Foundation, UNESCO / ICDE Chair in OER
Description: The webinar will gather four higher education educators from different European countries who are using Open Educational Resources and Open Educational Practices in their daily teaching work, to hear from their voices what are the main challenges and motivations to apply openness in a teachers' work. Each educator will briefly present her/his open education practice and will then participate in a final debate where we will try to distill some recommendations for other teachers on how to successfully implement open approaches in their teaching practices.
________________________________________________
2018 How to promote academic integrity in online Education
SRCE and EDEN joint event
Friday, 9 March 2018, 13:00 CET
Moderator: Sandra Kucina Softic, EDEN Vice-president, Assistant Director at the University Computing Centre Croatia
Speakers:
Fredric M. Litto, Professor Emeritus, University of São Paulo and President, Brazilian Association of Distance Education-ABED
Title of the presentation: "Plagiarism in Open & Online Learning"Some definitions of current academic plagiarism, followed by certain answers to these questions: Is there more plagiarism in higher education since the advent of the Internet? What factors are encouraging the practice of plagiarism? Is plagiarism software a solution with no drawbacks? Do interventions like ethics training really work?
Dr. Irene Glendinning, Academic Manager for Student Experience, Coventry University, UK
Title of the presentation: Academic integrity in distance learning programmes – securing authentication and verifying authenticity of assessment.This part of the webinar will first explore what recent research in South-Eastern-europe and in other parts of the world tells us about views of different players towards academic integrity in higher education. The research findings will then be considered in the light of specific requirements for assurance of quality and standards in distance learning programmes. Finally recommendations will be made about what responses should be made by the different stakeholders to address the threads to academic integrity affecting education in general
Chris Edwards, The Institute of Educational Technology, Open University UK
Title of the presentation: Online learning and academic integrity: developments, experiences and opportunitiesThe Open University in the UK has been providing its characteristic Supported Open Learning to students for nearly 50 years. Most recent developments are facilitated by computers and the internet. This webinar considers the current developments in e-authentication and in supporting academic integrity within the context of experience. It will include details of the European Commission funded Adaptive Trust-based e-assessment System for Learning, TeSLA, project and two other projects: OpenMentor and OpenEssayist.
Chris is a lecturer at the Open University's Institute of Educational Technology, where he chairs the masters module Openness and innovation in eLearning, has programme responsibilities for the Masters in Online and Distance Education, is a researcher on TeSLA and a data wrangler for the Faculty of Arts and Social Sciences.
Description: Academic institutions often define academic integrity as intellectual honesty within academic work that is devoid of plagiarism, fabrication and dishonesty. It should be present in all types of educational settings. Although plagiarism is not a new phenomenon it has become a greater concern lately especially in connection with online education. Questions like "is online learning creating new opportunities for plagiarism" or "how to prevent online students to use online resources without properly quoting or citing them" are becoming more present. The number of software for plagiarism detection is increasing and they are often looked at as the solution. Educational institutions, especially universities are faced with the challenge of how to solve and prevent the issue of plagiarism and to make academic integrity a highly valued standard in the academic world again. What is the best solution to do it?