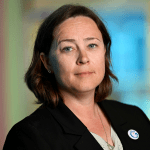 Orna Farrell
Chair of the NAP Seering Committee
Dr Orna Farrell is Associate Professor of Education, specialising in digital education based in the School of Policy Practice, Institute of Education in Dublin City University (DCU). Orna holds a PhD in Education from Trinity College Dublin.
Previously, Orna was Head of the Open Education Unit at Dublin City University, which provided online programmes to off campus students through the DCU Connected platform. From 2020-21, Orna led the Digital Learning Design Unit, created to support DCU's pivot to hybrid learning due to the Covid-19 pandemic. From 2017-20, she was Chair of the DCU Connected Online Humanities programmes.
Orna's research interests centre around digital innovative pedagogy and include online pedagogy, learning design, digital assessment, eportfolio and open education. She has a growing publication record in her fields of interest, including a range of book chapters, journal articles, invited presentations and conference papers. She has published in high ranking journals such as Distance Education, the Journal of Interactive Media in Education, Research in Learning Technology, and the International Journal of Educational Technology in Higher Education. Orna is a fellow of EDEN Digital Learning Europe.