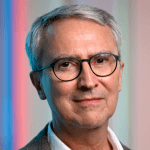 Josep M. Duart
Dr Duart holds a doctorate in Pedagogy from Ramon Llull University (URL), Barcelona, and a Master in Business Administration from ESADE Business School, Barcelona. He qualified from the University of Barcelona (UB) with a bachelor's degree in History and in Education, and also has a teaching qualification.
He is former vice president for Postgraduate Studies and Lifelong Learning, and former director of the International Graduate Institute at the Open University of Catalonia, UOC (2007-2013). The UOC is a benchmark online university, internationally recognised for quality e-learning, and Dr Duart has played an active role in the development of its educational model, which makes intensive use of information and communication technologies (ICTs). Today he is research professor in Educational Sciences and Technology department at the UOC.
He was the founder and director of the UNESCO Chair in e-Learning (2002-2009) and academic director of the I International Seminar "Leading Universities in the Knowledge Society". He is the editor-in-chief of the "International Journal od Educational Technology in Higher Education" ethe.uoc.edu. (Former RUSC. Universities and Knowledge Society Journal, rusc.uoc.edu) a journal published by Springer and co-edited by UOC and Universidad de los Andes (Colombia).