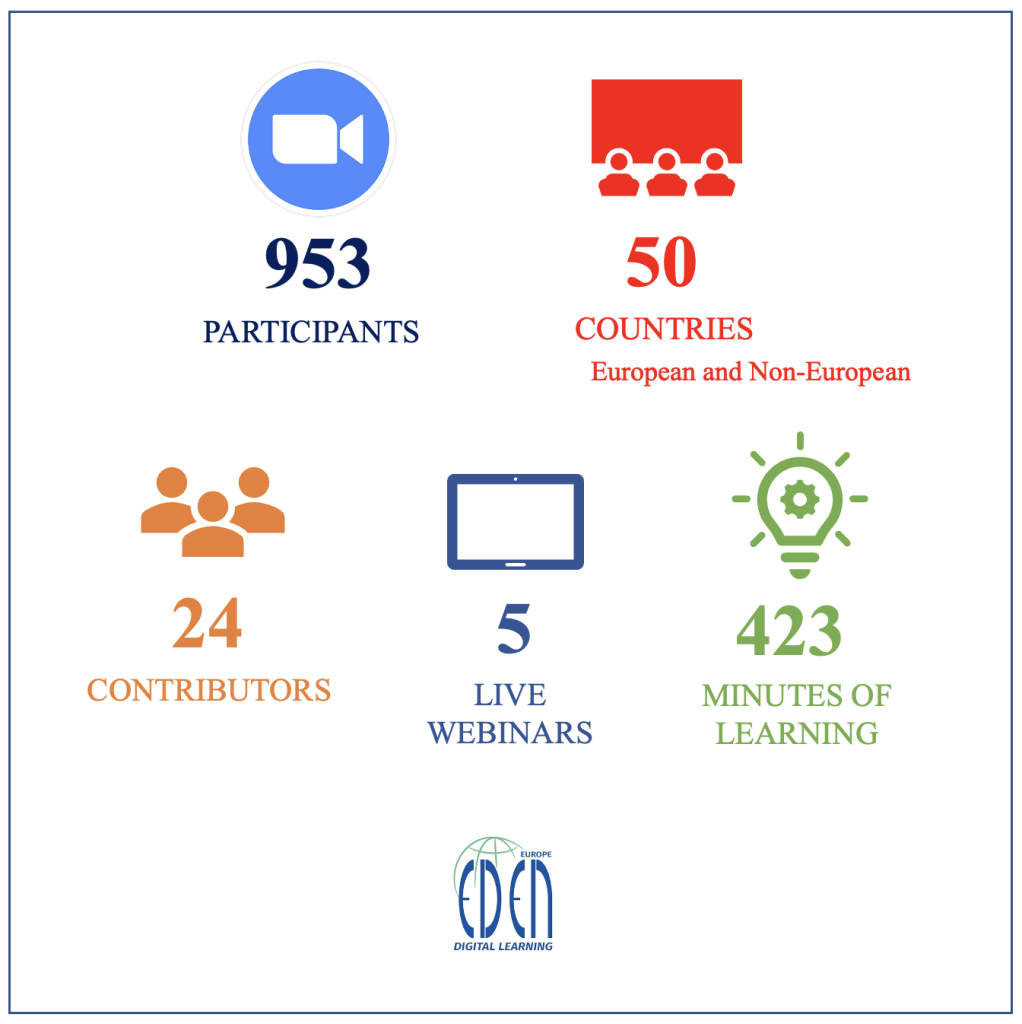 2022 European Online and Distance Learning Week (EODLW)
EDEN DLE thanks all the participants, moderators, panelists, organisers and partners who supported us for the 2022 European Online and Distance Learning Week. We welcomed a total of 953 online attendees at 5 webinars, with 24 moderators and speakers. The event was organized in partnership with the United States Distance Learning Association (USDLA), who will be holding its National Distance Learning Week (NDLW).

The week was a good time to discuss and exchange experience and examples of good practice in open, online and distance education, to get new ideas and network, with focus on the quality of education. Including sessions of expert scholars and practitioners who presented best practices and expertise in online and distance education, discussed with the audience on the challenges in shaping the future of education and how we can more fully harness the potential of new models of online and distance learning.
Click below to rewatch all the EODLW 2022 Sessions and find out more about the global numbers of the event:
EODLW 2022 in Numbers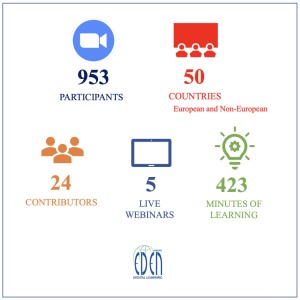 All webinars at EODLW 2022
Monday, November 7, 2022, 13:00 CET
Academic integrity and online assessment
Description: Online assessment offers universities many advantages, from greater flexibility and inclusivity to resource-savings in challenging financial times. Some institutions have been assessing online for many years, others have moved towards it as a result of the Coronavirus pandemic. However, almost all providers are now experiencing a significant rise in academic conduct referrals. In part that is a consequence of improving detection methods but it also reflects growing numbers of actual cases, whether in the form of plagiarism, collusion or the use of essay mills.
This seminar will explore these challenges, along with some possible solutions, from the perspectives of three quite different universities; a UK distance learning provider, a UK conventional university, and a European distance learning institution. it will use the experiences of both presenters and attendees to consider how to prevent the advantages of online assessment being undermined by increasing opportunities for unfair assessment practises. The session will be led by the Open University of the UK.
Moderator: Richard Marsden (Open University, UK)
Speakers: Michael Draper, Swansea University (UK), Henrietta Carbonel, UniDistance Suisse (Switzerland), Robin Crockett, Northampton University (UK) and Klaus-Dieter Rossade, Open University (UK)
Tuesday, November 8, 2022, 13:00 CET
Description: In this session we will discuss how European Universities alliances are supporting the innovation of Higher Education with a focus on open learning. The 'European Universities' initiative is part of the 'Partnerships for Excellence' support provided in the framework of the 2021-2027 Erasmus+ Programme. This initiative has an ambitious mandate aimed to trigger and deepen unprecedented levels of institutional cooperation between higher education institutions, making it systemic, structural and sustainable. It aims to encourage the emergence of bottom-up transnational alliances of higher education institutions across Europe, taking transnational cooperation to a new level of intensity and scope and offering students opportunities to combine studies in several countries.  By pooling their resources, capacity and strengths together, higher education institutions will reinforce their quality, performance, attractiveness and international competitiveness on all their missions – education, research, innovation, and service to society, for the benefit of students, staff and communities.
The speakers invited for this session have experience both in the building of strategies for alliances, and also in implemented them. They will talk about how the alliance they are part of has influenced their higher education institutions and what are the expected outcomes in the next years. By inviting also one of the students involved in the Student Board of such an alliance, we want to also give voice to students in expressing what such an alliance means for them.
Moderator: Vlad Mihaescu (EDEN DLE)
Speakers: Prof. Radu Vasiu (Politehnica University of Timisoara, Romania), Prof. Hannes Raffaseder (St. Pölten University of Applied Sciences, Austria), Marta Denisova (Vidzeme University of Applied Sciences, Latvia)
Wednesday, November 9, 2022, 13:00 CET
Description: During the last decade, different Quality Assurance Agencies (QAA) and international QAAs like ENQA in Europe and INQAAHE globally prepared documents and proposals for e-learning courses in Higher Education. These documents provide relevant guidelines for the definition and provision of e-learning courses and also define some institutional requirements to ensure programmes teaching and learning processes. After the pandemic, some HE institutions moved some of their programmes from face-to-face to hybrid or e-learning. The quality assurance guidelines provided added high value to the teaching and learning quality assurance process. In this webinar, we will have the opportunity to hear the QAA proposals from different regions and countries and learn about the new quality assurance perspectives of the e-learning and hybrid courses provision.
Moderator: Josep M Duart (EDEN)
Speakers: Anna Gover (ENQA), Anna Prades (INQAAHE), Albert Basart, (AQU, Catalan QA agency), Eamon Costello (Dublin City University).
Thursday, November 10, 2022, 11:00 CET
Description: For many educators, regardless of their teaching contexts, the first encounter with digital technologies happened in the transition to emergency remote teaching during the pandemic. Those who have already used these technologies often relied on them as an addition to in-person teaching.  However, such an extensive use of online solutions which characterized this period was unprecedented. Hence, coping with challenges, such as choosing appropriate technologies and learning to use these to ensure good teaching and learning, did not leave much space for engaging with the quality of the educational process. Nevertheless, in the post-pandemic period it is crucial to critically reflect on these experiences and to discuss lessons learned, for instance, by sharing our research on as well as practices of how digital technologies can enhance the quality of in-person teaching. Now is thus the time to use this experience for (re)designing teaching and learning with a perspective to quality in digital education – also in times of international crises. In this session therefore, researchers, teachers and practitioners will present their insights on how the quality of digitally supported teaching and learning could be maintained for the betterment of educating current and next generations of students. 
Moderator: Helga Dorner (EDEN DLE)
Speakers: Snježana Babić (University of Pula, CRO), László Horváth, (Eötvös Loránd University, HU) Margaryta Noskova (Lviv Polytechnik National University Lviv, UA), Oksana Matiiash (MA, Teach for Ukraine, Ukraine) and Mirza Žižak (University of Zagreb, CRO)
Friday, November 11, 2022, 12:00 CET
Description: The session is organized in the framework of Erasmus+ DigiProf project to introduce the research – based concept of learning analytics as a metacognitive tool for teachers in HE, supporting them to reflect upon and change their learning design on the basis of evidence – based decisions. Moreover, the theoretical background to student engagement in online and blended learning will be introduced. That is the key link to successful academic achievements and student behaviour and self-confidence in learning.
Moderator: Airina Volungerviciene (EDEN DLE)
Speakers: Airina Volungevičienė (Vytautas Magnus University, LIT), Lourdes Guardia, Marcelo Maina (Universitat Oberta de Catalunya, Barcelona), Giedrė Tamoliūnė (Vytautas Magnus University, LIT) and Maria Luisa Malerba (Universitat Oberta de Catalunya, Barcelona)