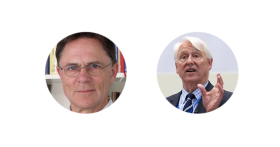 Dr. Ulrich Bernath and Professor Alan Tait awarded with EDEN EURODL Senior Editor Emeritus titles
EDEN is delighted to announce that according to the decision of the of the EDEN Executive Committee on 11 February, 2021 the honorary titles EURODL Chief Editor Emeritus have been awarded to the publication's two highly acclaimed and devoted, previous Chief Editors, Dr. Ulrich Bernath and Professor Alan Tait.
In the process of assigning the new EURODL Chief Editor, Wim Van Petegem (in charge of the new editions of EURODL from 1 January, 2021 for three years), it has been raised that a honorary title should be awarded by EDEN to professionals with prominent accomplishments to the development of the Journal. In consultations with EDEN President Sandra Kucina Softic and Vice-President for Research, Josep Duart, the proposal has been formulated that Dr. Ulrich Bernath and Professor Alan Tait should be offered with the Senior Editor Emeritus title for their invaluable contributions to the progress of EURODL.
The EDEN Executive Committee has unanimously endorsed the proposal.
Dr. Ulrich Bernath (Oldenburg University and Foundation for Research in Open and Distance Learning, Germany), worked as Chief Editor from 2014 till 2020, while Professor Alan Tait (University of London, UK), was Chief Editor from 2005 to 2013. Both professionals have largely been supporting the Journal's distinguished role in the field, leading to the current rank of EURODL being acknowledged among the major Journals in Europe and worldwide in the open-distance-digital learning field. EDEN hopes that the Journal and the network can count on Ulrich Bernath's and Alan Tait's precious experiences and expertise in the upcoming years as well.
Their names will be respectively permanently highlighted in the header of the Editorial Board list of the Journal.