EDEN 2021 Virtual Conference June Keynotes
EDEN 2021 Virtual Annual Conference – UNED-Madrid
First Keynotes Announced!
"Lessons from a pandemic for the future of education"

Dear EDEN Members, Partners, and Friends,
We are delighted to introduce the first, confirmed keynote speakers of the EDEN 2021 Virtual Annual Conference, hosted by the National Distance Education University UNED on 22-25 June. We are thankful for their participation, as EDEN is determined to cooperate with highly acclaimed professionals at all of its events to share their expertise and unique experiences. We kindly remind you that 2021 marks EDEN's 30th Anniversary year, therefore the Madrid Conference will be special to all of us in many regards. embracing our traditional values for three decades and the EDEN community's future endeavours and directions in the field of distance and e-learning in the hopefully not so far, post-pandemic "new normal". This year's conference is intended as a continuation of the efforts of EDEN to support educators by providing a space to explore the issues and insights that have emerged during the pandemic. As noted in our 2020 webinar series #covid19 #onlinetogether Education in a time of a pandemic and Education in time of a new normal, fully online education on a global scale is unprecedented in the history of education.
---
Flexible Submissions
We kindly inform you that for the Madrid Conference the submission deadline is flexible, but the latest submissions are awaited by 17 May. Submissions arriving till 31 March will be evaluated within two weeks, after that the evaluation process may take longer.
Read more HERE.
---
First Keynotes Introduced
---
Ángeles Sánchez-Elvira Paniagua
Senior Lecturer in Psychology (at degree, master and doctorate level) since 1991 at the Department of Personality, Assessment and Psychological Treatment, Faculty of Psychology, UNED
---
Diana Laurillard
Professor of Learning with Digital Technologies, UCL Knowledge Lab. Formerly Head of the e-Learning Strategy Unit at Department for Education and Skills (2002-2005); Pro-Vice Chancellor for learning technologies at the Open University (1995-2002)
---
Francesc Pedró
Director of the UNESCO Institute for Higher Education in Latin America and the Caribbean. He joined UNESCO's education sector in Paris in 2010. His team looks after technology in education and education policies, including national policy reviews and comparative research in order to ensure alignment with SDG 4-Education 2030.
---
Ulf-Daniel Ehlers
EDEN Executive Committee member, Professor for Educational Management and Lifelong Learning, Baden-Wuerttemberg Cooperative State University, Germany
---
Digital Education Action Plan
---
Main Topics of the Conference
The evolution of online and distance learning (ODL, ODeL, blended, hybrid, hyflex)
The transformation of face-to-face teaching, through online, to blended learning
Guidance for navigating "the new normal".
Best practices for transitioning from emergency remote teaching to online learning
Digital preparedness, digital literacy, and digital citizenship
Ongoing developments in the continued adoption of Artificial Intelligence
Methodological advances (genius hour, bite-sized learning, social-emotional learning, gamification, experiential learning)
Potentiating health and wellness in online education
Non-traditional assessment solutions
Topics related to the EU Digital Education Action Plan (2021-2027). Resetting education and training for the digital age:
Application of micro-credentials and alternative digital credentials in higher education
Reflections on the resilience of the education community during the pandemic – well being of teachers and students in online environment
Read the full topic list here.
Contributions are invited which are addressing by own research, project achievements, case studies, theoretic and conceptual work the conference theme and tracks and the creative use of educational technology.
Submissions – taking into account the conference theme and related to at least one of the conference topics – are welcome in the following formats: full paper, poster, workshop, demonstration, synergy session, training session.
Networking and interactivity, sharing and discussion will be core aspects of the conference, focusing on what you can learn from and with your peers.
---
Recognition
The tradition of granting the Best Research Paper Award (in collaboration with the Ulrich Bernath Foundation for Research in Open and Distance Learning), the Young Scholar's Best Paper Award will be continued at the Madrid Conference as well.
The EDEN Fellow Awards will also be bestowed on the selected professionals. The purpose of the EDEN Fellow scheme is to provide validation and support to professionals in Europe in this field, and to enhance their mobility within Europe through a respected scheme of recognition.
---
Contact
EDEN 2021 Conference Contact Information: madrid2021@eden-online.org
---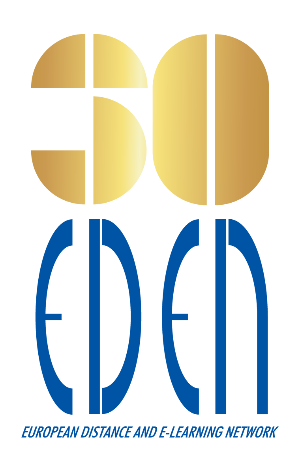 EDEN 30th Anniversary – Three decades of serving modernisation
in education