EDEN NAP Webinar – ChatGPT and the AI Essay: Who Will Write the Ending? – Wednesday 15 February at 13:00 (CET)
The AI chatbot ChatGPT has certainly got us talking. This EDEN DLE webinar invites you to continue the conversion about AI chatbots and essay writers in the company of a distinguished expert of AI in education – Professor Mike Sharples. Professor Sharples' recent book Story Machines: How Computers Have Become Creative Writers is having a big impact for its contribution to creative assessment in the age of AI. It gives timely examples of story machines through the ages, including the history, recent developments, and future implications of automated AI story generation.
In this session you will:
Gain insight into the history of AI story writers
Learning about the threats and opportunities they pose
Find out how they may be used to augment writing work
Hear from a panel of academics experts
Share your views of how we can intentionally respond to technologies such as ChatGPT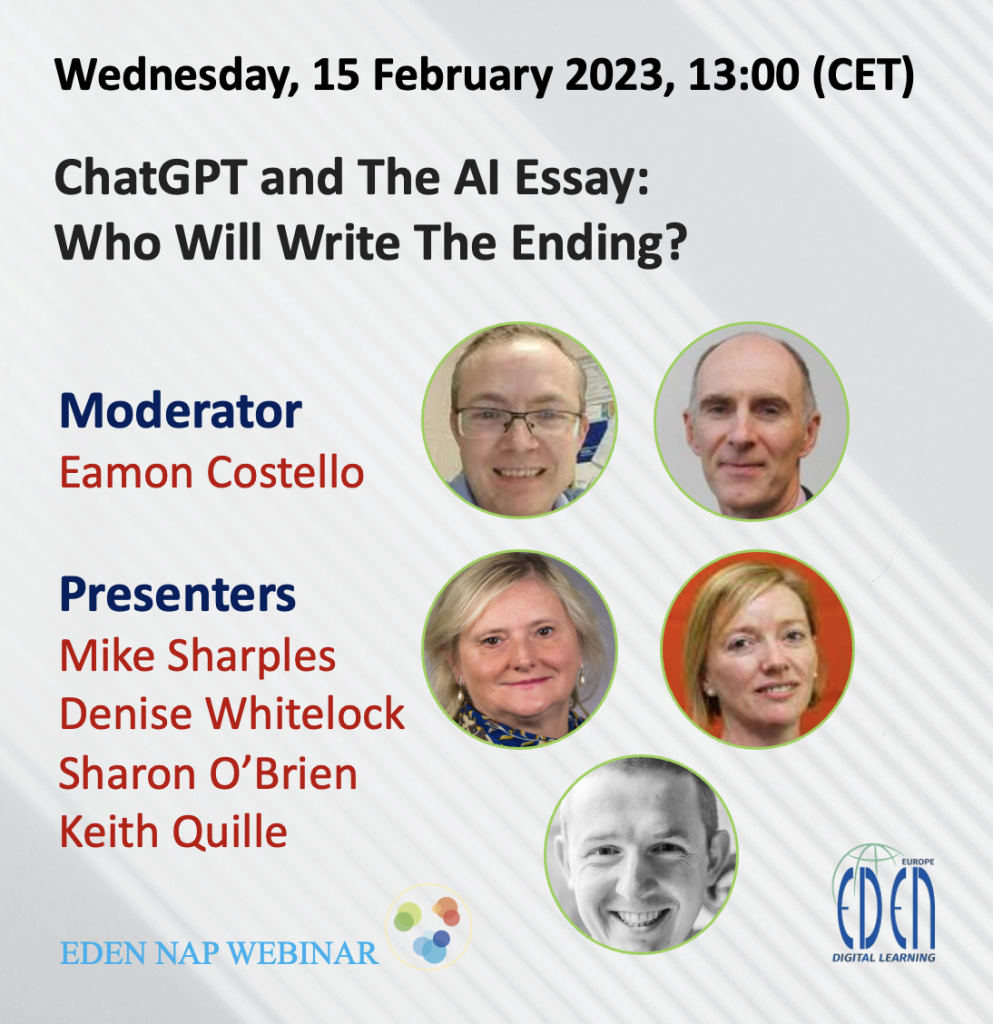 Moderator
Eamon Costello
Dr Eamon Costello is an Associate Professor of Digital Learning at Dublin City University. He has worked in industry and university settings for over 25 years. He is deeply curious about how we learn in different environments and the impact of technology. He is also concerned with how we actively shape our world so that we can have better and more humane places in which to think, work, live and learn.
Speakers
Mike Sharples
Professor Mike Sharples is Emeritus Professor of Educational Technology in the Institute of Educational Technology at The Open University, UK. He established the Innovating Pedagogy report series and is author of over 300 books and papers in the areas of educational technology, science education, human-centered design of personal technologies, artificial intelligence and cognitive science.
---
Denise Whitelock
Professor Denise Whitelock, is a Professor of Technology Enhanced Assessment and Learning and Director of Open University's Institute of Educational Technology, with over twenty years experience in designing, researching and evaluating online and computer-based learning in Higher Education. She led the Supportive Automated Feedback for Short Essays project funded by the EPSRC with Oxford University, providing students with automatic feedback on electronic drafts of their assignments supplementing tutor support. Her work has received international recognition by holding visiting chairs at the Autonoma University, Barcelona and the British University in Dubai. She currently serves as EDEN's Vice President of Research.
---
Sharon O'Brien
Professor Sharon O'Brien, Dublin City University, Professor of Translation Studies. Currently Associate Dean for Research in the Faculty of Humanities and Social Sciences in Dublin City University. Sharon O'Brien is Professor of Translation Studies at the School of Applied Language and Intercultural Studies. She is interested in interdisciplinary research that touches on the topics of translation, AI, HCI, and crisis communication taking a primarily empirical approach via keylogging and eye-tracking to research the cognitive aspects of translator-computer interaction.
---
Keith Quille
Dr Keith Quille is a Senior Lecturer in the School of Enterprise Computing and Digital Transormation, at TU Dublin. He is an active researcher in Computer Science Education (with an emphasis on inclusion) which spans third, second and primary level's. He has also served as an expert to the European Commission Group on AI and Data in Education and Training. Keith also lectures Applied Machine Learning and Applied Deep Learning at undergraduate and postgraduate (Human Centered Deep Learning on the Human Centered AI Masters – https://humancentered-ai.eu/)