Open Education Week 2023 – "Applying and Translating Learning Design and Analytics Approaches in Your Institution"
Description
This interactive workshop delivered by the University of Zagreb, Faculty of Organisation and Informatics (UZ), School of Medicine, and the Open University UK (OU) will build on several large-scale implementations of learning design and learning analytics, and how you could potentially implement similar approaches in your institution.
For example, the OU has been implementing learning design for over 15 years as a structured design, specification, and review process for blended and online courses. The learning design is focused on "what students do" as part of their learning, rather than on "what teachers do" or on what will be taught. Building on this work, UZ has recently developed the Balanced Design Planning (BDP) tool specifically for educators working in hybrid and blended contexts. The tool (www.learning-design.eu/) is more focussed on intended learning outcomes and automated learning analytics and is currently developed and tested with 700+ practitioners from 25+ institutions as part of several European projects (eDesk, Teach4EDU, RAPIDE, iLED), and is publicly available for other institutions to use for free.
In this EDEN workshop we aim to showcase what we have learned from implementing the BDP concept and tool, and how we have further updated and fine-tuned the approach based upon both feedback from end users as well as participating institutions.
Outcomes
Develop your own learning design and learning analytics approaches and/or to work with other educators to design a joint course and share it with other peers/students based on hands-on experiences with the Balanced Design Planning tool.
Use lessons learned from both approaches from a range of European institutions in your own teaching and learning practices.
Apply and translate these learning design and learning analytics approaches into your own institution based on provided good practices and use of the LD and LA concepts and tools.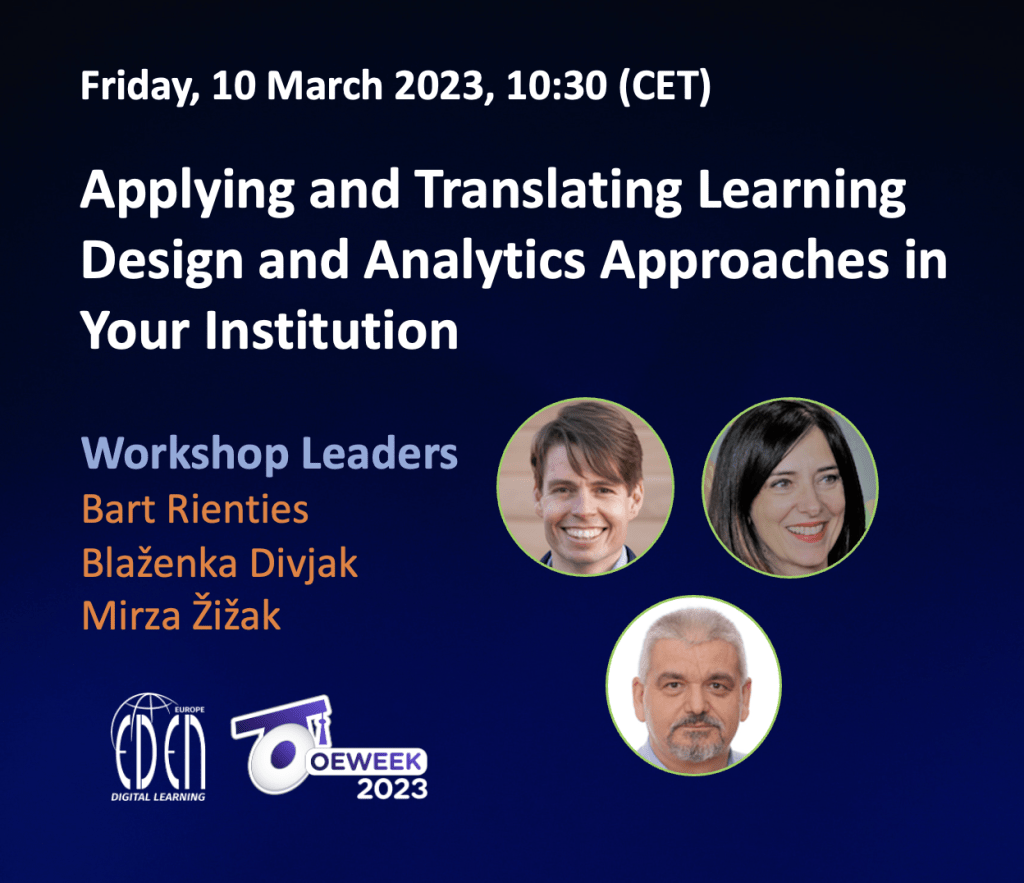 Workshop Leaders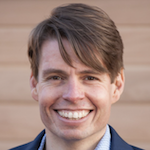 Bart Rienties is Professor of Learning Analytics and programme lead of the learning analytics and learning design research programme at the Institute of Educational Technology at the Open University UK. He leads a group of academics who provide university-wide learning analytics and learning design solutions and conduct evidence-based research of how students and professionals learn. As an educational psychologist, he conducts multi-disciplinary research on work-based and collaborative learning environments and focuses on the role of social interaction in learning, which is published in leading academic journals and books. His primary research interests are focussed on Learning Analytics, Professional Development, and the role of motivation in learning. Furthermore, Bart is interested in broader internationalisation aspects of higher education. He has successfully led a range of institutional/national/European projects, and has received a range of awards for his educational innovation projects. He is currently the President-Elect of the Society of Learning Analytics Research (SoLAR).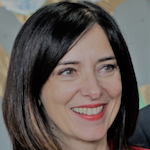 Blaženka Divjak is a full professor of Mathematics and a scientific advisor of Information Science at the University of Zagreb, Faculty of Organization and Informatics and the head of the Laboratory for Learning Analytics. Currently, she coordinates two international Erasmus + projects related to learning analytics: "Innovating Learning Design in Higher Education" iLED and "Relevant assessment and pedagogies for inclusive digital education" RAPIDE, as well as a work package within the "Digital and entrepreneurial skills for European teachers" Erasmus+ project. Her area of interest and expertise, besides mathematics, includes learning analytics, learning design, e-learning, assessment, AI in education and strategic decision-making in higher education. She served as Vice-Rector for students and study programs at the University of Zagreb (2010-2014) and was the Croatian Minister of Science and Education (2017-2020). She has been a coordinator and a researcher in over 30 (inter)national projects.
Mirza Žižak is an associate professor at the Department of Physiology and Immunology, chairman of the school committee for e-education and head of the Office for e-learning at the School of Medicine, University of Zagreb (MEF). For the last 20 years, he has been actively working and coordinating changes for transition of his school from a classical teaching approach into blended and online teaching methods. He is the author of the interactive simulation program for learning the cell membrane potential which is used at several medical schools in Croatia and Bosnia and Herzegovina. In 2012. his elective course was awarded as the best e-course at the University of Zagreb. He has completed the one-year E-learning Management program at CARNET's E-Learning Academy. He is an invited speaker in a series of workshops for the application of e-learning and work in the LMS system. His area of interest and expertise, besides physiology and immunology, includes innovative learning and teaching such as flipped classroom approach, learning analytics and learning design in higher education. Currently he is a partner on two Erasmus+ projects. One is the RAPIDE project (Relevant assessment and pedagogies for inclusive digital education, while the second one is a iLED project ('Innovating Learning Design in Higher Education) which started October 2022 and ends on October 2025.