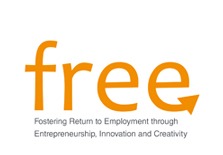 Lifelong Learning Programme 2007-2013 – Leonardo da Vinci – Transfer of Innovation
The project aims at providing a tool to councilors, tutors, trainers and other professionals working with unemployed people to develop a set of hard skills (entrepreneurship, creativity and innovation) and soft skills (those required to support people who want to start a business and also exercices/techniques to promote creativity and innovation).
By improving their skills in these 3 areas, coucilors, tutors and trainers will be able to provide better support to unemployed people, namely by supporting them in the reintegration into the labour market by starting new businesses.
The project involves the adaptation and integration of already existing contents and techniques in one interactive multilingual tool.