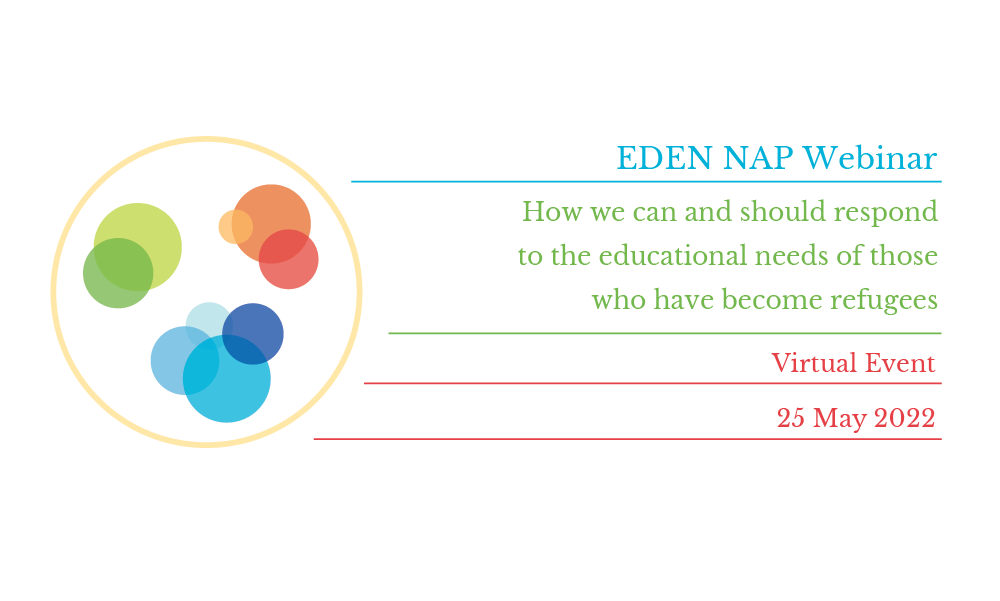 How we can and should respond to the educational needs of those who have become refugees
Wednesday, May 25 2022, 16:00 CEST
EDEN NAP webinar
REGISTER
ADD TO CALENDAR
The disruptions caused by war, oppressive regimes and environmental degradation are causing unprecedented levels of social dislocation and violence. To all this can now be added the shocking impact of war and invasion in Europe itself. Millions of people have had to flee just to stay alive. Individuals and families alike have been traumatised by this. We would like to explore the impact on educational needs and whether we can fashion interventions that somehow ease the pain while also providing a model of a way forward for those so impacted.
Moderator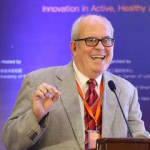 Dr. Alan Bruce
CEO and Director of Universal Learning Systems
Dr Alan Bruce is CEO and Director of Universal Learning Systems – an international consultancy firm specializing in research, learning innovation and project management. ULS operates in the educational, development and management sectors. It has offices in Ireland, Barcelona, Helsinki, Sao Paulo and Chicago. Dr Bruce, a sociologist, has lectured in universities in France, England, the U.S. and Ireland and worked in policy research for the European Commission in Brussels. In Ireland he had national responsibility for the training and accreditation of specialists working in vocational rehabilitation in the disability sector. He has lectured and published widely on the social construction of disability, labour market policy, equality paradigms, social inclusion, strategic change and managing diversity.
In 2014 he was appointed Associate Professor with UOC (Open University of Catalonia) in Barcelona on conflict resolution and innovative learning. In 2016 he was appointed as Visiting Professor for Global Learning in the Changhua University of Education in Taiwan. In 2016 he was appointed as Learning Design Expert with Universidad Nacional de Educación (UNAE) in Ecuador. He works intensively at the intersection of digital learning, inclusion strategies and innovative universal design. In 2018 he was appointed to the Steering Committee on Online Training for the European Workforce, established by the European Commission. He is Academic Coordinator for the Conflicts of Interest program validated by Queens University Belfast. A member of the Association for Historical Dialogue and Research in Cyprus, he has worked in Kosovo, Bosnia, Romania, Cyprus, Palestine and Northern Ireland on conflict transformation, human rights and innovative inclusive education. In 2018 he was appointed as External Expert for the European Commission in Brussels on migration policy and social inclusion. He is currently the Irish representative on EU Erasmus + Capacity Building projects on ICT supported language learning for Palestinian universities and development of early childhood learning centres in Palestine. In 2021 he was appointed to the Advisory Council of the Department of Education in GD Goenka University, Delhi, India. From 2010-15 he was Vice-President of EDEN.
Speakers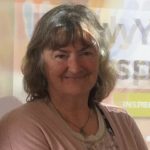 Imelda Graham has worked with disadvantage, inclusion and diversity for many years. Recently this included working in a volunteer capacity with refugee in Lesvos, Greece. Imelda developed a kindergarten in an independent refugee camp, Lesvos Solidarity Camp at Pikpa. Imelda advocates for refugees and their children through presentations and writing, and is currently part of a steering group in Ireland organizing supports for Ukrainian families and children.
Imelda has authored and co-authored a number of publications for early years educators and lectured on various topics for a number of universities in Ireland. She has worked on national and transnational projects and served on the board of the European Training and Development Federation for a number of years. Imelda is currently working on several Erasmus + Projects. She has worked with US organizations, and presented at conferences in the US, UK and Europe. Imelda is on the Board of the National Childhood Network, and is a member of PEIN, the Prevention and Early Intervention Network.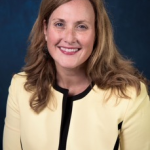 Dr. Lee Ann Rawlins Williams presently serves as Assistant Professor and Program Director of the Rehabilitative Health Sciences (RHSC-BS) at East Tennessee State University, Johnson City, Tennessee. Previously, she has served in various positions during her tenure in the field of rehabilitation and disability studies. Her academic experience includes work with graduate and undergraduate programs at the University of Tennessee, Knoxville and Auburn University. Her professional experiences include work in the field of rehabilitation in the areas of blindness and low vision, general rehabilitation counselling, human resource training/development, and in guest services with the Walt Disney Company. Dr. Rawlins Williams has held a variety of leadership positions at the local, state, regional, national, and international levels for professional rehabilitation associations. She has published research in peer-reviewed journals and authored a book on caseload management. Her areas of research interest include, professional practice in rehabilitation, undergraduate education, professional ethics, case/caseload management, psychosocial aspects of disability, and diversity and inclusion. Dr. Rawlins Williams is a Certified Rehabilitation Counselor (CRC) and a Certified Family Life Educator (CFLE). She is a member of the Board of the National Rehabilitation Counselling Association in the United States.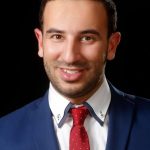 Ahmad is Founder and CEO of Alefredo Books in Jordan. Alefredo is active in educational development with a core focus on the EdTech industry in Jordan and MENA region. This enterprise acts as an online marketplace for all types of used academic books & supporting educational material in addition to mock exams also available in digital format, for school and university students. His work places Ahmad at the centre of educational access and provision initiatives in Jordan, including the need to address the needs of a significant refugee population. Jordan currently hosts 760,000 refugees registered with the UNHCR (of whom 670,000 are from Syria). These numbers are considered an underestimate and do not factor in over 2 million Palestinian refugees.
Ahmad holds a BSc in Mechanical Engineering from the University of Jordan (2011) and, an MSc in Business Administration/Marketing from the University of Jordan (2019) with 10 years of experience in the private sector with Izzat Marji Group and Total Jordan in renewable energy and commercial departments. His work has received several national and international awards in innovation and entrepreneurship from UNDP, the Embassy of Switzerland in Jordan and Plan International.
His current work on educational access and digitalization of materials addresses a wide range of educational access needs in Jordan and the region.