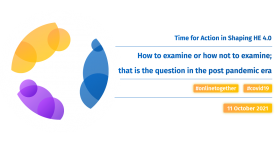 No. 6 – How to examine or how not to examine; that is the question in the post pandemic era
October 11, 2021, 17:00 CEST
EDEN webinar
Description
There have been massive disruptions in response to the COVID-19 pandemic in the world of Teaching and Learning with an unprecedented need for innovation and agility, especially in the field of assessment. Among the pressing concerns at the forefront of this pandemic has been how to examine students learning at speed and within budget when face to face examinations have not been possible. There have also been concerns about a diminished quality of learning with respect to this unexpected shift to e-learning together with a pressing need to grade students at the end of the academic year.
This webinar will examine some of the approaches to summative assessment which include how to substitute physical assessment with remote technology enhanced assessment. However, with every challenge comes an opportunity which in this case is to rethink changes to assessment processes, working towards a new research agenda.
During the session, we will also discuss:
What is the future of the exam?
What have we learnt about online proctoring?
Is Contract Cheating the Next Normal?
Moderator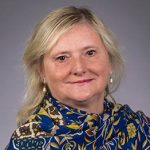 Denise Whitelock
Director, Institute of Educational Technology,
Open University, UK

Professor Denise Whitelock is the Director for the Institute of Educational Technology at The Open University.  She is a Professor of Technology Enhanced Learning and has over twenty-five years' experience in Artificial Intelligence for designing, researching and evaluating online and computer-based learning in Higher Education.   She recently led the UK's contribution to the Adaptive Trust e-Assessment System for Learning (TeSLA) project. The overall objective of the TeSLA project was to define and develop an e-assessment system, which ensures learners authentication and authorship in online and blended learning environments while avoiding the time and physical space limitations imposed by a face-to-face examination.  She is currently the Editor of Open Learning: The Journal of Open, Distance & e-Learning. Her work has received international recognition through holding visiting Chairs at the Autonoma University, Barcelona and the British University in Dubai.  For complete publication list see: https://oro.open.ac.uk/view/person/dmw8.html
Speakers
Allison Littlejohn
Director, UCL Knowledge Lab,
University College London
Professor Allison Littlejohn is Director of the UCL Knowledge Lab, a centre exploring the future of education with technology in the Institute of Education, University College London. Her research focuses on the role of professional learning in addressing global challenges, making contributions to the understanding of how people learn for work across the Energy, Finance, Health, Education and International Development sectors.
Profile: https://iris.ucl.ac.uk/iris/browse/profile?upi=ALITT35
UCL Knowledge Lab: https://www.ucl.ac.uk/ioe/departments-and-centres/centres/ucl-knowledge-lab
---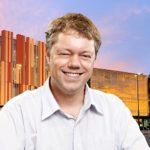 Mathew Hillier
Macquarie University,
Sydney, Australia
Mathew Hillier specialises in Digital Assessment in Higher Education and is currently working as an e-assessment academic at Macquarie University, Sydney, Australia. Mathew is co-chair of the international 'Transforming Assessment' webinar series as the e-assessment special interest group under the Australasian society for computers in learning in tertiary education. He recently led a half million-dollar national project with 10 university partners that explored how to make online exams more authentic. He is an honorary academic at Monash University, University of Canberra and an adjunct academic at University of Tasmania. Mathew has previously held academic development posts at University of New South Wales, Monash University, University of Queensland and University of Adelaide and teaching roles in business information systems, multimedia arts and engineering project management in Australia, Singapore, and Hong Kong.
---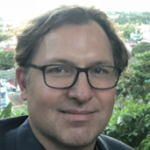 Marco Kalz
Professor of Technology-Enhanced Learning and Open Education,
Heidelberg University of Education & Open University of the Netherlands
Marco Kalz is full professor of technology-enhanced learning at the Heidelberg University of Education. He is also affiliated to the UNESCO chair of open education of the Open University of the Netherlands. His research interest lies on the use of open education, pervasive technologies and formative assessment to support (lifelong) learning and knowledge construction. He has published more than 140 peer-reviewed publications. Marco is associate editor of the IEEE Transactions on Learning Technologies, and editorial board member of Educational Technology Research and Development and Distance Education. He is a fellow of the Interuniversity Center for Educational Sciences (ICO) and the Dutch research school on information and knowledge systems (SIKS). He is elected president of the European Association of Technology-Enhanced Learning (EA-TEL), director of the study program E-Learning and Media Education and co-director of the Education for Sustainable Development Center. Over the last 5 years he could secure approx. 2.5 Mio EUR of research funding for his institution. Besides European projects he was and is regularly involved in educational innovation and consulting projects with partners inside and outside of his institutions.
---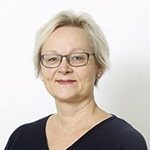 Tarja Ladonlahti
PhD (ed.) Ph.D, Lecturer (University teacher) University of Jyväskylä,
Open University, Finland
Tarja Ladonlahti, PhD (ed.) is a project manager and university teacher at the University of Jyväskylä. Her recent projects and research topics are related to inclusive higher education, eAssessment and accessibility of digital learning environments and student support services. She has a long career in a field of education as a researcher, an educator and as a Pedagogical Head of the Open University of University of Jyväskylä. She is an author of national and international presentations and articles about obstacles to learning, inclusive education, teacher co-operation and guidance.