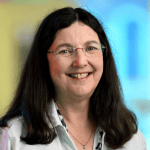 Dr Fiona Aiken is a Senior Lecturer, Staff tutor in the STEM faculty, School of Environment, Earth and Ecosystem Sciences with the Open University, UK. She is a home worker, living in Northern Ireland. Fiona started out as an Associate lecturer with the Open University in 1993 teaching general Science and Environmental Science modules at all levels. In her current role she manages a team of Associate Lecturers on environmental science modules and is the scholarship lead for her school.
Fiona's current research interests are in educational research focussing on where improvements can be made to the student experience. One current project is looking at how students can be better supported in using the print resources which are sent to students who can't access module resources online. A second project is researching the levels of eco-anxiety that students experience on environment modules and developing resources to help students build resilience and address
their eco-anxiety.
Fiona is a peer reviewer for two journals, Open Learning: The Journal of Open and Distance Learning and Higher Education: Skills and Work-based Learning. She has presented at the EDEN workshop in Barcelona in 2018, the EDEN workshop in Dubrovnik in 2022 and the EDEN conference in Dublin 2023. She also regularly attends the online EDEN NAP webinars.