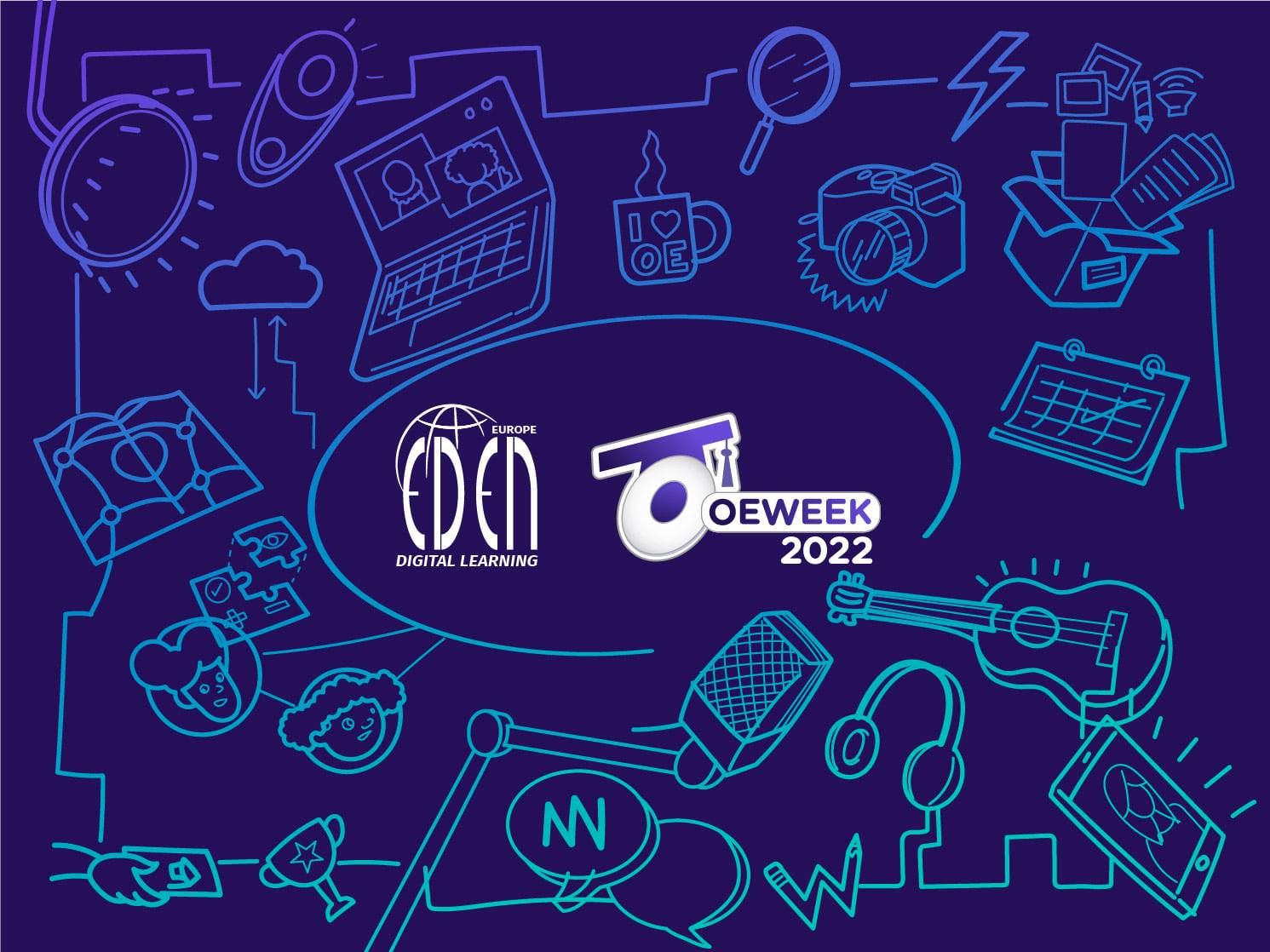 Open Education Week 2022 Outcomes
The Open Education Week 2022 comes to an end after a week of live and open webinars in which more that 30 experts discussed some of the key and ongoing topics on the education and e-learning environment.
More than 650 people from 54 different countries registed to follow the webinars through Zoom, YouTube and our official social media channels Facebook and Twitter.
Starting on Monday 7 with the discussion on Yes it's Open but is it any Good? Reflections on an Open Reading Initiative of Scholarly Research (Youtube) focusing on the growth of open science and the plethora of open access scholarly publications in the area of digital education—for better and worse. We heard the reflections and points of view of experts, such as Mark Brown, Lesley Gourlay, Melissa Bond, Petar Jandrić in a conversation moderated by Eamon Costello.
We finished the Monday session with a webinar on Opening and Developing a European Community of Practice (YouTube) celebrating the start of the work on the "Community of Practice" of the Digital Education Hub. As part of the European Commission's initiative under the Digital Education Action Plan, a consortium of eleven European organisations, led by German Academic Exchange Service (DAAD), supports the development of an open, collaborative and cross-sectorial community of digital education stakeholders. EDEN is among the core partners. A great debate moderated by Timothy Read with Katharina Engel, Rasmus Benke-Åberg, Sandra Kučina Softić, Airina Volungevičienė, Denise Whitelock, Ignacio Atal and Bastian Greshake Tzovaras.
On the second day of the series we engaged in a great discussion with Jess Carr and Bart Rienties, moderated by Christothea Herodotu on Democratizing research and science: Ways forward (YouTube). We reflected on how research and science are currently produced and discuss ways we could make them more inclusive, open, and democratic.
The Wednesday Session focused on specific digital experiences from and for the technical higher education under the title Digital experiences in technical higher education (YouTube) with new experts, such as Diana Andone, Gustavo Alves, Daina Gudoniene and Igor Balaban in a session led by Vlad Mihaescu.
For the fourth day of the OEW 2022, we had a double session. The first of them was formed around the following question: How to become an open teacher? (YouTube) discussing the enablers of teachers to become open educators, including digital competences needed to co-create and share digital content and OER, as well as the challenges for teachers' opening up at schools and at universities. A session moderated by Airina Volungevičienė with a great panel of speakers: Estela Daukšienė, Elena Trepulė, Elena Caldirola, Jochen Ehrenreich, António Moreira, Ana Balula and Sandra Vasconcelos.
The second session of the fouth day was Designing Future Skills-ready Future higher education: Why it Matters and What We can Do A Future Skills – Apéro conversation with Gilly Salmon (YouTube). The conversation alongside Ulf-Daniel Ehlers and Laura Eigbrecht focused on sharing insights from her work on transformation of higher education and feature spicy good anecdotes, examples and stories 'between the lines'.
The final session of OEW 2022, Opening up Museums: how inclusive open education is transforming the museum experience (YouTube). In this webinar a panel of expert researchers discussed how open education is contributing to the digital transformation of the museum learning experience. António Moreira Teixeira, Antonella Poce, Covadonga Rodrigo, Antonia Liguri and Angeles Sánchez Paniagua showed how open education is being embraced by museum educators and explain why that is helping to address inclusion for all, but also widening participation, developing critical thinking, fostering digital citizenship, and promoting wellbeing.
For more information about each webinar session, click here.