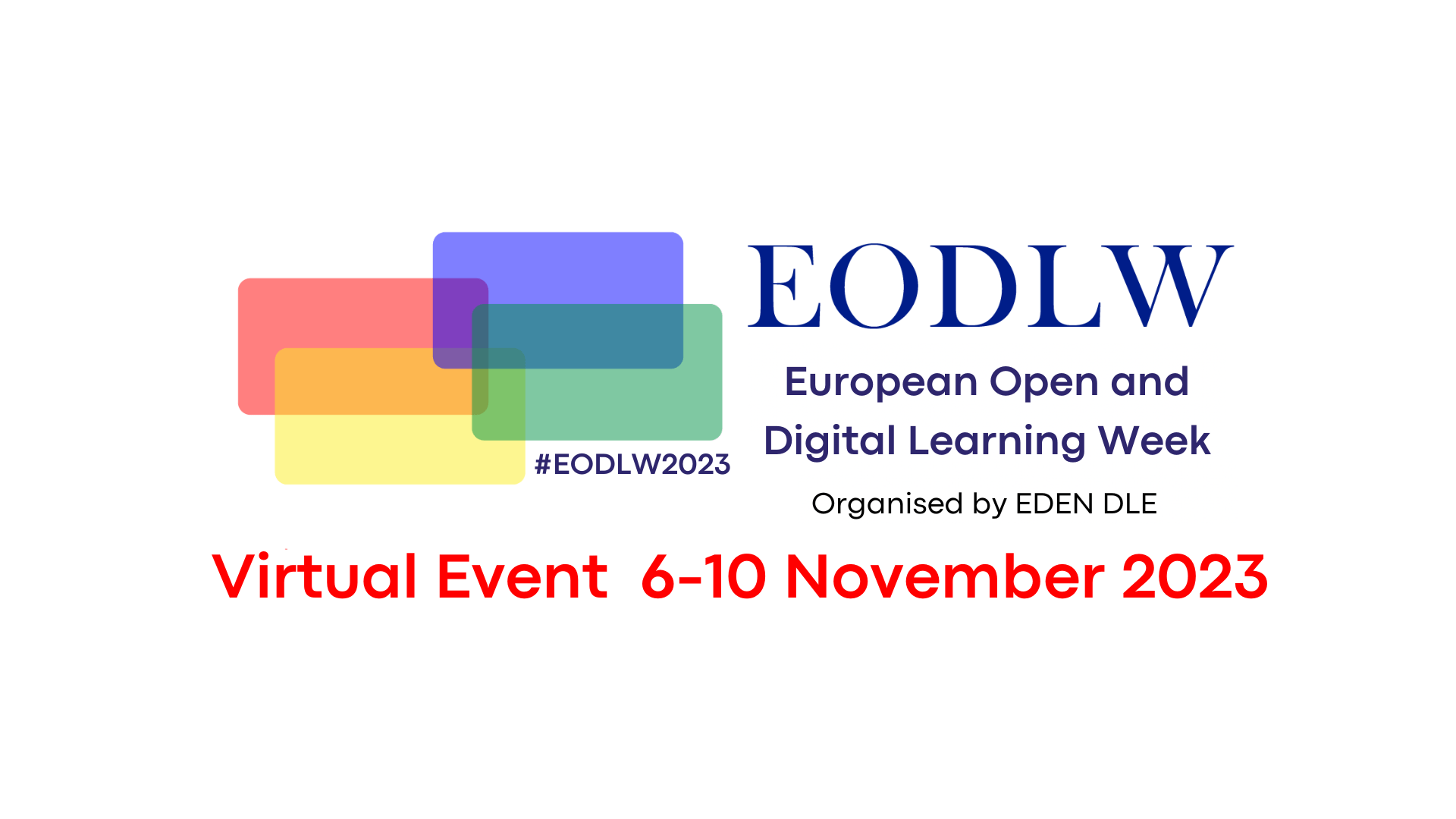 Watch Now All The Sessions! – European Open and Digital Learning Week (EODLW) 2023
EDEN proudly hosted for the eight year in a row the European Open and Digital Learning Week (EODLW).
This year's theme was: Education in the Digital Age: What can we do better?
Dates: 6-10 November 2023
---
The event was organized in partnership with the Coimbra Group Education Innovation and Doctoral Studies Working Groups, the United States Distance Learning Association (USDLA), who will be holding its National Distance Learning Week (NDLW), and Flexible Learning Association of New Zealand (FLANZ) and Open and Distance Learning Association of Australia (ODLAA), who joined efforts to offer the Asia-Pacific Online and Distance Education Week (APODE).
Many thanks to the 776 participants that joined us for EODLW 2023!
Description: The transformative power of Artificial Intelligence (AI) spans across different sectors, including education. A high performing digital education ecosystem will increasingly include the use of AI at all levels including for teaching and learning. For Adult Education and VET teachers and trainers there are many possible uses of AI including new opportunities for adapting learning content based on student's needs, new processes for assessment, analysing possible bottlenecks in learners' domain understanding and improvement in guidance for learners. Since increasing our knowledge and understanding of emerging technologies such as Artificial Intelligence (AI) and its ethical educational deployment becomes more and more important, experts and researchers will share insights and results (in relation to the AIPioneers project) regarding the issues of capacity, both systemic and institutional, through working with teachers and trainers, educational planners, stakeholders, and policy makers in Adult Education and VET. Find more information, here.

Format: Presentations

Moderator: Graham Atwell
Speakers: Ana Dias, George Bekiaridis, Lisa Meyne and Alexia Antzaka

Watch Now!
Description: How can well-being be promoted in the university context? And what role could the use of technology and heritage play? The session, through the participation of seven experts from different European and non-European institutions, aims to investigate research experiences in the field of promoting and evaluating well-being in formal Higher Education contexts, especially through the use of heritage and technology as educational tools. Find more information, here.

Format: Presentations

Moderator: Antonella Poce
Speakers: Thomas Kador, Antonia Liguori, Diana Andone, Gila Kurtz, Keren Koresh, Maria Rosaria Re and Mara Valente

Watch Now!
Description: Increasing online learning possibilities are also challenges for teachers in HE in terms of transparent assessment. Introduction of micro-credentials is also closely related to certain assessment procedures that need to be implemented for transparent implementation. New open and free training courses are available to support HE teachers and HE institutions to design and implement transparent assessment for online learning and recognition of learning outcomes by proposing methodology, guidelines, practical tools and training material to develop their digital competences. The guidelines for HE institutions to implement transparent assessment of learning outcomes for online and blended learning, leading to digital and micro-credentials will be presented. Find more information, here.

Format: Presentations

Moderator: Elena Trepulé
Speakers: Airina Volungevičiené, Rimanté Cepauskiene, Estela Dauksiene and Giedré Tamoliūné

Watch Now!